Hello Legacy Storm Players! Since our last Infernal Tutoring, there have been two major Legacy events, GP Niagara Falls, and the Leaving a Legacy Open III. The deck lists for GP Niagara Falls can be found here, but the top 8 consisted of Stoneblade, two copies of Death & Taxes, Grixis Control, Miracles, 4C Punishing Dack, Grixis Delver, and Sneak & Show. The Leaving a Legacy Open III results can be found here, but the top 8 consisted of Sneak & Show, Grixis Phoenix, Lands, two copies of The EPIC Storm, UW Delver, Vial Esperblade, and Red Prison. As you can see, the Legacy meta is very diverse, and the format feels very healthy! While the deck has mostly stayed the same, a lot of the Storm community is giving Cabal Therapy a try over one or two copies of Duress. This synergizes very well with our Empty the Warrens plan, but without Gitaxian Probe to fall back on, there are many times where you can miss with Cabal Therapy, which makes it risky. All in all, The EPIC Storm feels great, so let's jump into out three scenarios!
Special Guest
Daniel D'Amato (@damatoexp):
Daniel D'Amato is an above average MTGO grinder and streamer primarily known for the playing the storm archetype. He has a GP Top 32 as well as multiple Eternal Weekend and Star City Games Classic Top 32s and Top 16s. He currently resides in Richmond, VA and can be found at most GPs and legacy tournaments along the east coast.
You can follow him on Twitch at twitch.tv/damatoexp!
Deck List
SITUATION #1 – Miracles
In our first scenario, we are playing against Miracles! While Miracle's popularity on Magic Online has been on the decline, it is still considered the premier Legacy control deck. In the past, we would try to out-grind Miracles with cards like Past in Flames, but the somewhat recent addition of Accumulated Knowledge, has forced us to shift our game plan slightly. It isn't nearly as feasible to try to play the long game against Miracles, because they will crush us with card advantage. We want to beat Miracles before they can stabilize. Most of my recent wins against Miracles have been on the back of an early game Empty the Warrens, and now that we are playing Cabal Therapy, that plan is slightly better!
HOW I SIDEBOARDED:
-1 Rite of Flame, -1 Chrome Mox
+2 Hope of Ghirapur
We are currently in game two on the draw. The opponent played a Volcanic Island and passed the turn. How would you play out your first turn? In Sideboard matches, how would you prioritize Discard against cards like Hope of Ghirapur?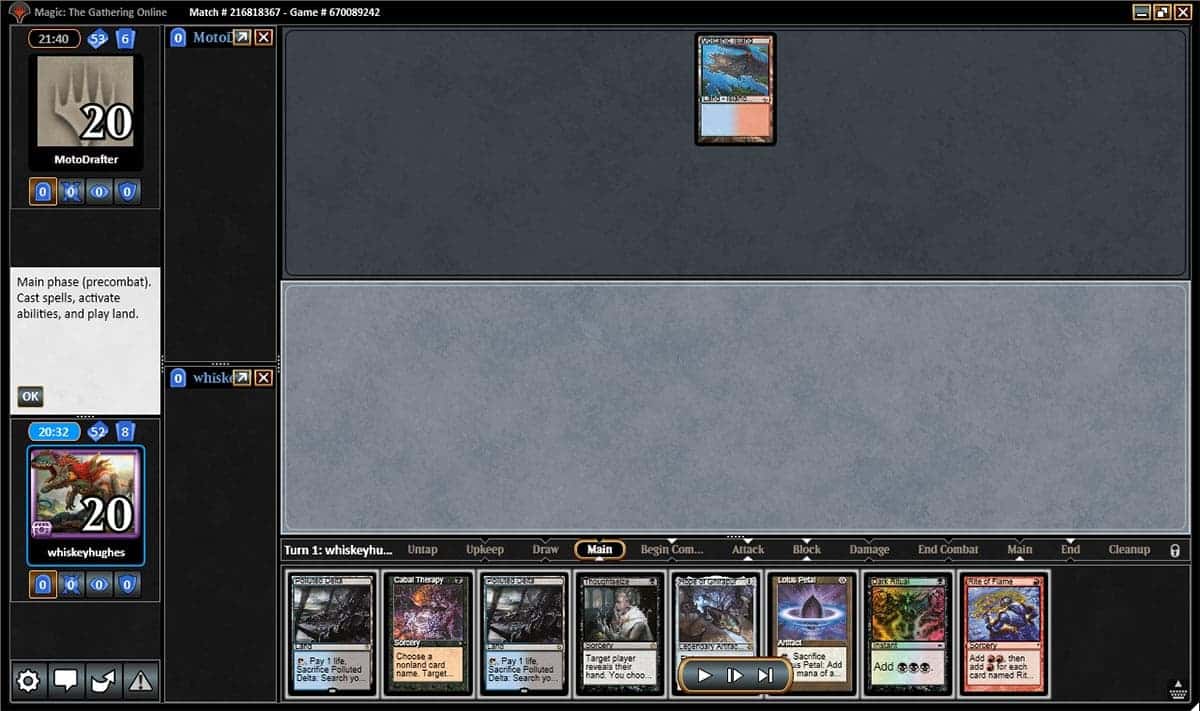 SITUATION #2 – B/G Depths
In our second scenario, we are playing against B/G Depths. B/G Depths style decks have become very popular in the current Magic Online Meta because they are fast and disruptive. The deck generally looks to play hand disruption cards like Thoughtseize, Duress, and Hymn to Tourach, while setting up a very fast Dark Depths kill. In this matchup, Goblins are usually not preferred, as Goblins can't interact with a 20/20 flying creature. Past in Flames usually isn't a great strategy because the opponent can Crop Rotation for Bojuka Bog at instant speed. Even if the opponent is tapped out, they have Elvish Spirit Guide, which allows them to catch players off guard with an unexpected Crop Rotation. While this matchup is generally favorable for The EPIC Storm, it can be very challenging to navigate at times, especially when you have a hand that favors a Burning Wish line.
We are currently in game one, and our opponent was able to slow us down by casting Duress and taking our Ad Nauseam. On our opponent's second turn they cast Thoughtseize and we cast Brainstorm in response. How would you resolve this Brainstorm to put yourself in the best situation possible?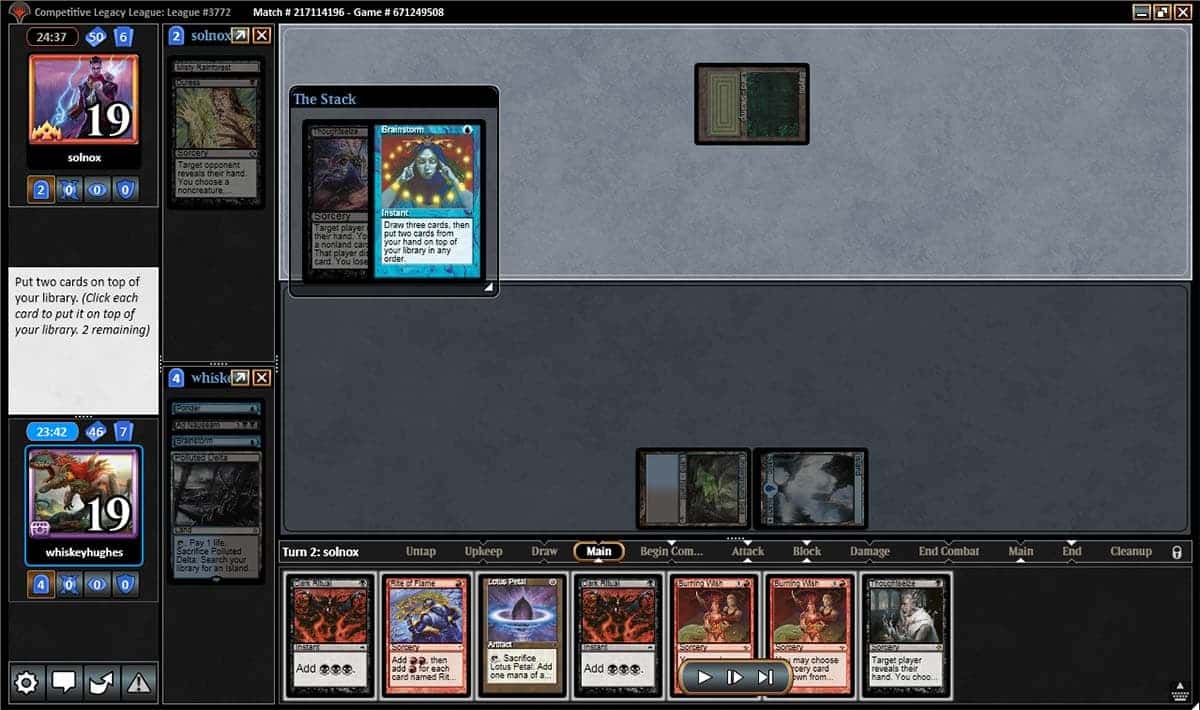 SITUATION #3 – Jeskai Stoneblade
In our final scenario, we are playing against Jeskai Stoneblade. Stoneblade decks are generally control decks that look to deploy cards like Stoneforge Mystic to fetch Equipment. This strategy is very powerful in a control shell because the opponent can take their time, and control the board before committing to a kill. Creatures like True-Name Nemesis can run over fair decks, especially when equipped with Umezawa's Jitte. This matchup can be very challenging for us, because our Goblin Strategies can often times have trouble against Batterskull. In addition to that, the deck also packs a ton of countermagic, but in game one they can sometimes get stuck with hands that don't interact well with us.
HOW I SIDEBOARDED:
-1 Rite of Flame, -1 Chrome Mox
+2 Hope of Ghirapur
In this scenario, we currently in our main phase on turn four. The opponent cast Surgical Extraction in our upkeep, targeting Thoughtseize. The opponent is now aware of everything in our hand, with the exception of the Volcanic Island that we drew on our turn. On our previous turn, we decided to take the opponent's Batterskull with Thoughtseize, which might have been a misplay. Regardless of that, how would you play out this scenario, to either win or put yourself in a winning situation?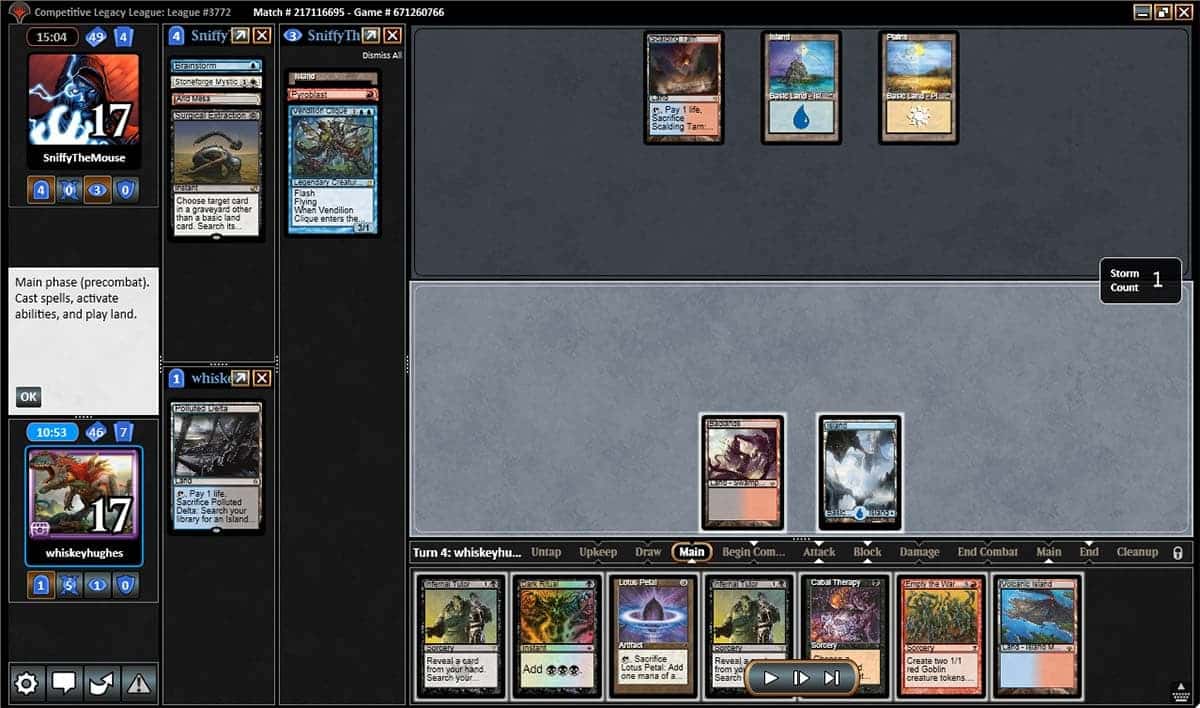 In closing, I would like to give a shout out to Bryant Cook and Anthony Laverde for making the top 8 in the Leaving a Legacy Open III! While there was no Storm in the top 8 of MagicFest Niagara falls, I still want to give a shoutout to our A.N.T brethren Cyrus Corman-Gill and Brandon Osborne for placing in the top 45!
Until next time, Keep Storming!