Hello Legacy Storm Players! We are back with our 30th Infernal Tutoring article! Since our last article, there have been some serious changes in the Legacy Meta. In my last article, I went over some of the impacts that War of the Spark had on Legacy, and it looks like Modern Horizons has had a very similar effect. RUG Delver has been revitalized with the printing of Wrenn and Six, but it doesn't just stop there. Control and Prison players have also started to build around Wrenn and Six. Control players for the consistency that Wrenn and Six brings with never missing land drops, while also being able to ping pesky creatures. Prison players also benefit from leveraging Wrenn and Six to return Wasteland from the graveyard to their hand to lock players out of the game. In the world of Storm, a new hybrid storm deck has been putting up great results. This list leverages Monastery Mentor, Echo of Eons, and Narset, Parter of Veils. The EPIC Storm has also started to play a single copy of Echo of Eons in our sideboard because it gives us a wonderful line with Burning Wish and Lion's Eye Diamond. If all of that wasn't enough, there is also the impending London Mulligan rule that goes into effect when the 2020 Core Set is released, which could completely change how people brew and build decks!
In addition to adding a copy of Echo of Eons into our sideboard, The EPIC Storm team has also been testing some pretty radical builds, leveraging two copies of Defense Grid, and three copies of Mox Opal in the main deck, cutting the copies of Duress, the flex spot, and the basic Island. This makes our deck very explosive, and Defense Grid is amazing at not only slowing down our control opponents but also making Mox Opal live more consistently. To summarize it all, things are changing very fast in Legacy, which is leading to some very exciting possibilities for everyone, regardless of your preferred deck choice or archetype! Enough small talk though, let's jump into our three scenarios!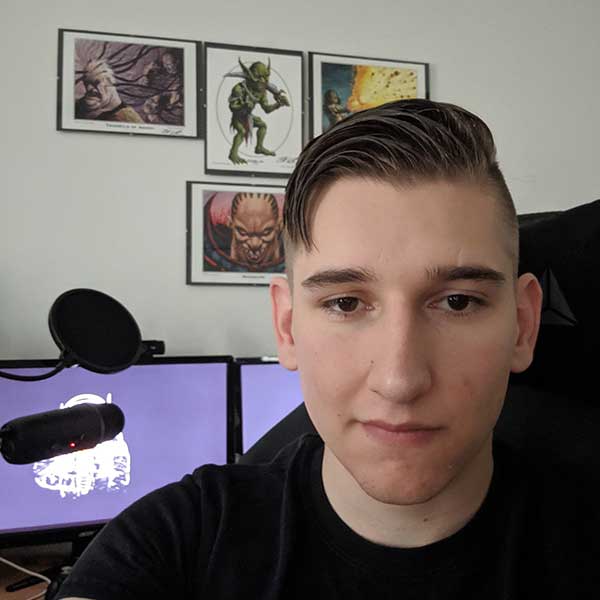 Special Guest
Brian Gallagher (Chhaam):
Brian is a Legacy specialist with lots of experience with fair midrange decks as well as a few years of experience with TES. His favorite win-condition is Telemin Performance and is mostly known locally for his affinity for signed cards and always having time for food between rounds.
Deck List
SITUATION #1 – Nic Fit
While there are hundreds of different Nic Fit builds, the main thing that they all have in common is the synergy between Cabal Therapy, Veteran Explorer, and a bunch of Basic Lands. This version of Nic Fit was using Arena Rector or Academy Rector to cheat a Planeswalker or an Enchantment into play. This can be pretty brutal for The EPIC Storm because if we make Goblins, they can grab Ugin, The Spirit Dragon. They can also get a card like Dovescape, which can completely shut us down. While this matchup is generally very favored for us, there are many times where you will be on the wrong side of a Cabal Therapy, which will give our opponent the time that they need to stabilize.
We are currently in game one on the draw, with a pretty solid hand. On turn one, I decided to just play out a Scalding Tarn and pass. In retrospect, I should have played out a Lion's Eye Diamond, but I have been punished against Nic Fit for doing that because they have Abrupt Decay and Assassin's Trophy. Naturally, our opponent had Cabal Therapy, so I decided to Brainstorm in response. How would you resolve this Brainstorm? Assuming that our opponent will flashback the Cabal Therapy, would you grab two basics, or choose to not shuffle?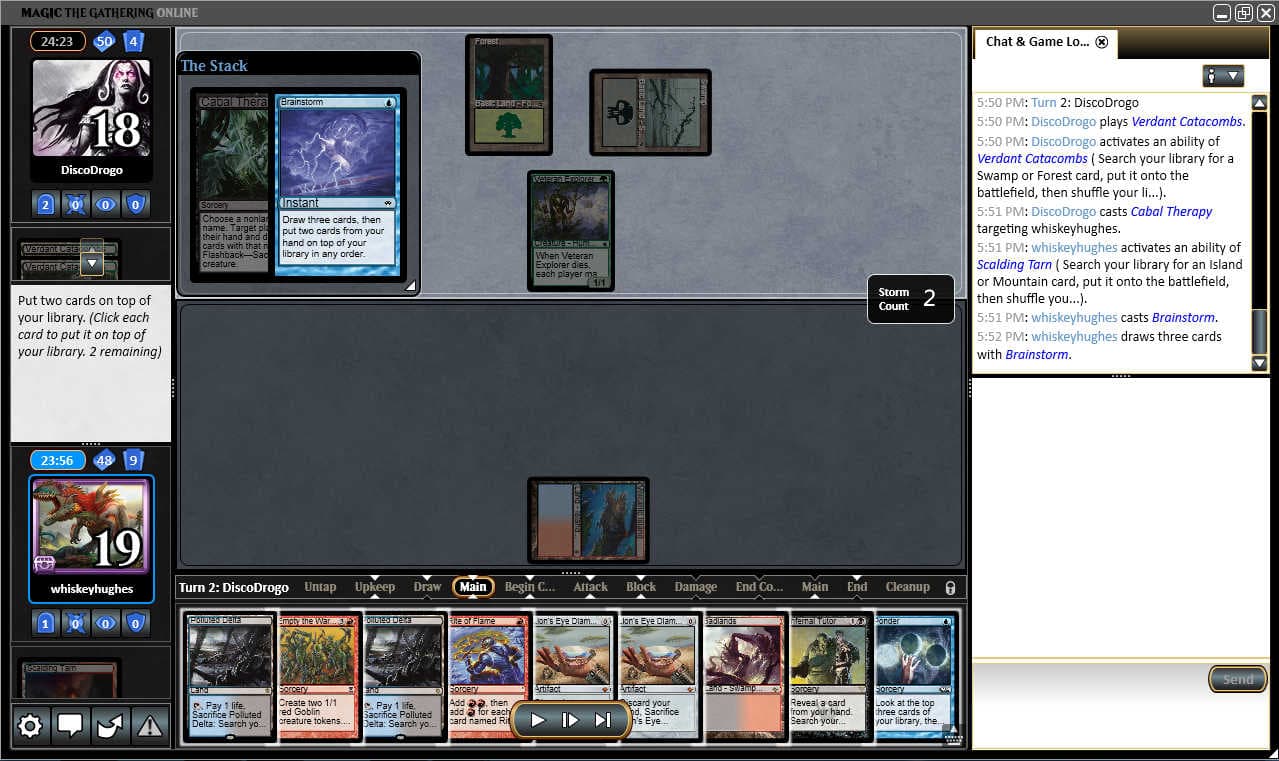 SITUATION #2 – Ad Nauseam Tendrils
Despite the name, Ad Nauseam Tendrils (ANT) is a Past in Flames deck at heart. ANT looks to either set up a deterministic Past in Flames kill or a Natural Storm kill. With cards like Past in Flames, Cabal Ritual, Tendrils of Agony, and Dark Petition in the main deck, casting Ad Nauseam is often seen as a liability. I would attribute about 50% of my wins against ANT to failed Ad Nauseam flips from my opponent. In this matchup, we need to keep an extremely fast or an extremely disruptive hand. Typically ANT packs about 7-8 discard spells, so it is also wise to play out your Lion's Eye Diamonds before they get discarded!
HOW I SIDEBOARDED:
-1 Empty the Warrens, +1 Tendrils of Agony
In this scenario, we are in game three on the play. We were able to take our opponent's Infernal Tutor on turn one with our Thoughtseize. Our opponent played their Preordain and put both cards on top. On turn two, we cast Ponder, shuffled and drew Infernal Tutor. We then cast our second Thoughtseize. What would you take here?
SITUATION #3 – Grixis Delver
Grixis Delver is a tempo deck that looks to put pressure on the opponent by playing an early game creature threat that can be protected with Daze or Force of Will. Grixis Delver also looks to disrupt their opponent by attacking their mana base with Wasteland, and in some builds, they look to rip apart their opponent's hand with Thoughtseize or Inquisition of Kozilek. With all of those disruptive elements combined with a fast clock, this matchup can definitely be troublesome for The EPIC Storm.
We are currently in game one, in a rough spot. We were working on setting up a turn where we would destroy the opponent's board with Grapeshot and then Empty the Warrens to finish our opponent off. Our opponent played a True-Name Nemesis, which ruined that plan. We need to take action because we are dead next turn. How would you play out this turn to either win or put yourself in a winning situation?
Since Legacy is in such a turbulent state, Burning Wish is continuing to shine because you can get so much game one value from being able to answer random hate cards. While none of my scenarios reflect it, Echo of Eons has been amazing! While it has backfired on a few occasions, the amount of times it has bailed me out of unwinnable situations is second to none. If you haven't picked up your copy, I would highly recommend giving it a try.
Until next time, keep storming!