Welcome back to our 33rd Infernal Tutoring Article! With GP Atlanta behind us, it feels like Legacy has become the "Wild West" format of Magic: The Gathering. With a top eight that consisted of Ad Nauseam Tendrils (ANT), RUG Hexdrinker, Dark Depths, Burn, Miracles, RUG Hexdrinker, Dark Depths, and Hogaak Dredge, it is very apparent that Dark Depths and Wrenn and Six decks are leading the charge as the top decks to beat. In the current meta, it is no surprise to me that Ad Nauseam Tendrils (ANT) performed so well in GP Atlanta. The Past in Flames engine is extremely powerful against the majority of the top decks in the format.
As far as The EPIC Storm (TES) is concerned, there haven't been any huge innovations this month. In my last article I talked about Crash, which continues to impress me everytime I get a chance to play with it. With Wasteland and Stifle ticking upwards, I am also considering moving back towards an Island. Enough small talk though, let's jump into our three scenarios!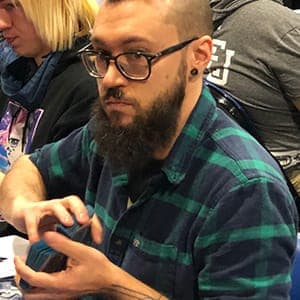 Special Guest
Josh
Bingaman

(beanaman):

Josh is a Legacy veteran, having played all manner of combo decks since starting to play the format in 2008. One of the pioneers of the deck archetype with our favorite SeaLab based naming convention, Josh's Magic accomplishments include making the second day at GP Atlanta 2012 with a home brew (Tin Fins), going 12-3 at GP New Jersey 2014 with Tin Fins with a sideboard Doomsday Fetchland Tendrils transformation, and a top 16 finish with that same deck at SCG St. Louis 2015. More recently he has been developing Bizarro Stormy in addition to playing more traditional Storm variants, and has accomplished his goal of getting the entirety of the Tin Fins, ANT, and TES decks fully signed by their respective artists.
Deck List
SITUATION No. 1 – Bomberman
When most people see the Magic Online username Julian23, they assume that they are about to play against Elves. Unfortunately for us Julian was on Bomberman! Bomberman is a mono-white combo deck that uses Auriok Salvagers and Lion's Eye Diamond to make infinite mana and then closes out the game with a Walking Ballista kill. Bomberman saw a pretty big resurgence with the printing of Karn, The Great Creator, which gave the deck a huge amount of resiliency. Besides Karn, The Great Creator, the biggest main deck threat for TES is Chalice of the Void. The good news isBomberman is very weak to Chalice of the Void on zero, so you will rarely have to play around that. All in all, Bomberman seems to be a pretty even matchup, but can definitely swing in either direction depending on who is on the play.
HOW I SIDEBOARDED:
-3 Ponder, -1 Defense Grid
+2 Crash, +2 Chain of Vapor
We are in game two on the play. I decided to keep a potentially risky hand. We can either make 10 Goblin Tokens, Brainstorm, or pass the turn. What line would you choose, and why?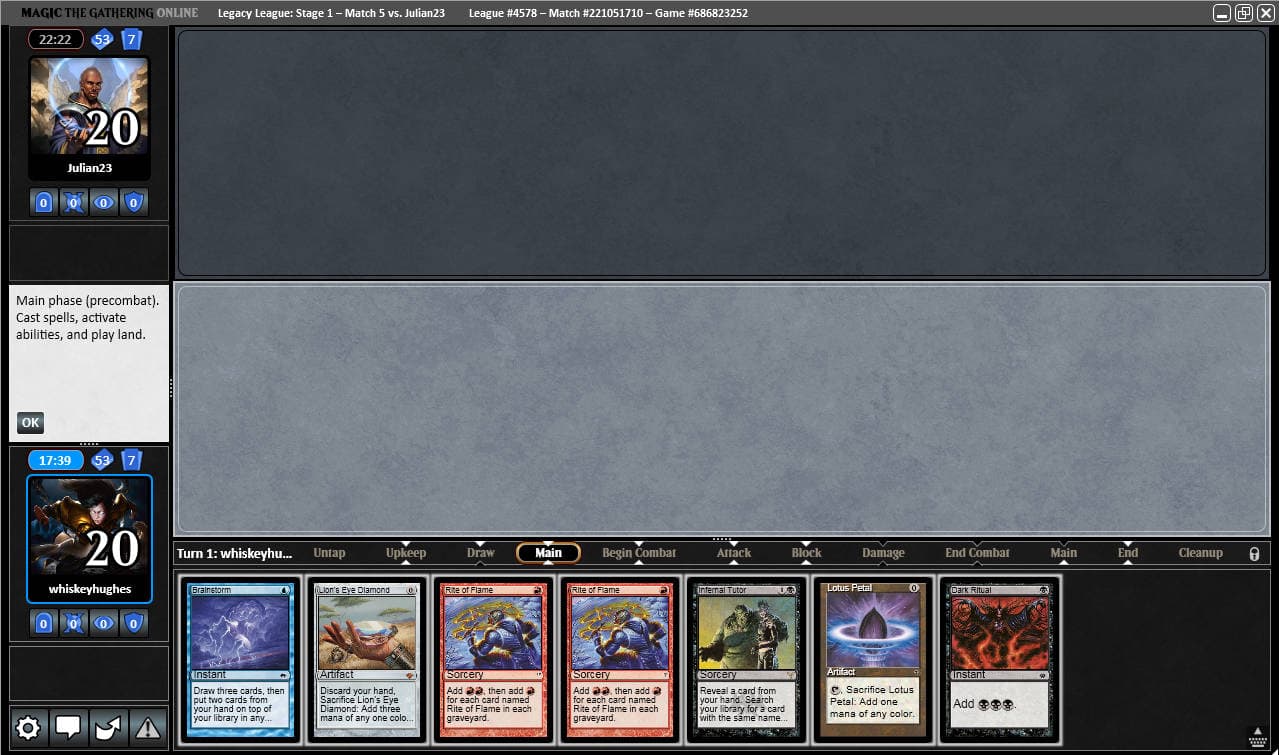 SITUATION No. 2 – Infect
In our next scenario, we are playing against Infect. Infect is a creature combo deck that looks to kill its opponent by dealing 10 infect damage. Usually this is very early, and in one fell swoop. If a potentially fast combo kill wasn't bad enough, Infect also packs a decent amount of counter magic to protect their combo as well. This can make the match feel very challenging. While Goblin Tokens can sometimes get there, infect has Inkmoth Nexus, which can fly over your Goblin Tokens, and Blighted Agent, which can't be blocked.
HOW I SIDEBOARDED:
-1 Ponder, -1 Chrome Mox
+2 Hope of Ghirapur
We are currently in game two on the draw. We were hoping to deal combat damage with Hope of Ghirapur and then finish out opponent. Unfortunately for us, our opponent played out an Inkmoth Nexus. Assuming that the opponent will almost certainly block with Inkmoth Nexus, how would you play our your turn to either win, or put yourself in a winning situation?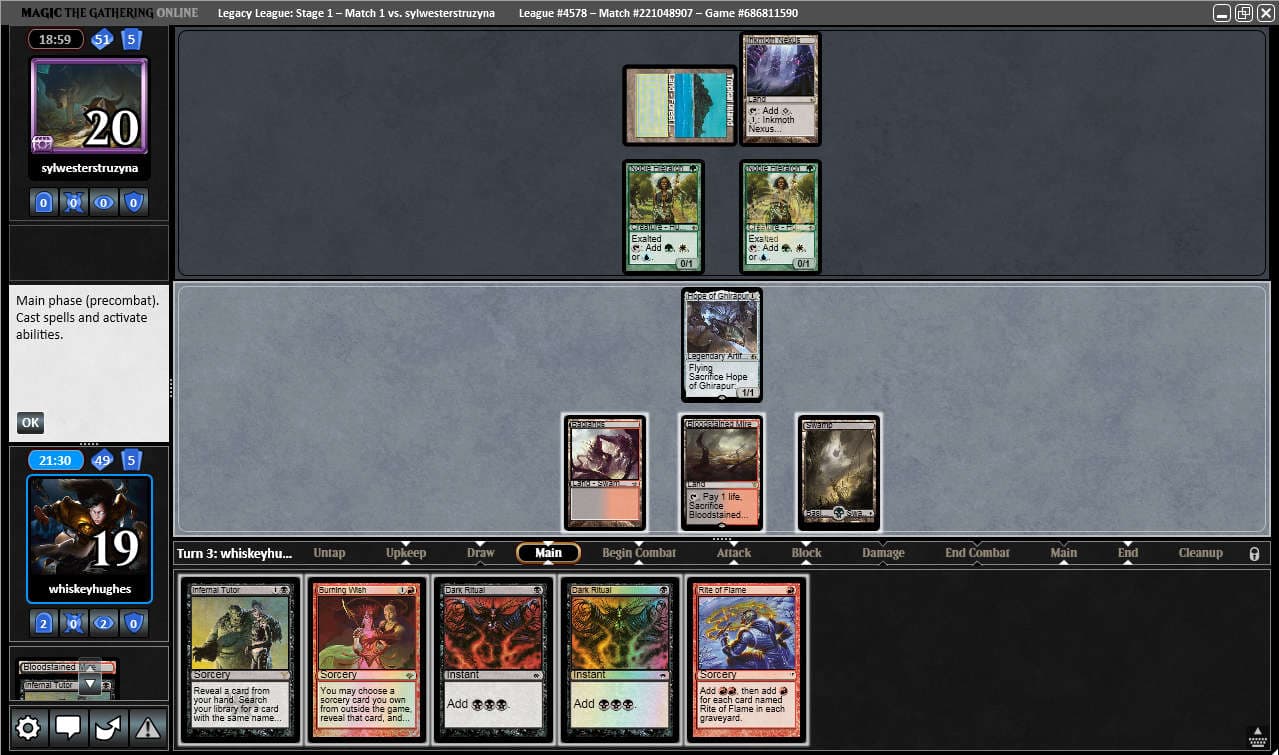 SITUATION No. 3 – Soldier Stompy
Our final scenario is against Soldier Stompy! This deck essentially packs every card that Storm doesn't want to see: Chalice of the Void, Thalia, Guardian of Thraben, and Wasteland. This deck can be extremely miserable to play against if you aren't able to go off on turn one. While this deck is pretty rare to play against, you should always assume that there will be at least one player in the room who couldn't decide between Death & Taxes or Red Prison, and they will unfortunately throw this together!
HOW I SIDEBOARDED:
-3 Ponder -1 Defense Grid +2 Crash +2 Chain of Vapor
We are in a very tough spot! Over the course of this game, we were able to go for an Echo of Eons after bouncing our opponent's Thalia, Guardian of Thraben. Our hand didn't quite get there from the Echo of Eons, but we were able to force our opponent to discard a Chalice of the Void, and we have an answer for the Thorn of Amethyst in their hand. The opponent drew and played a Thalia, Guardian of Thraben, which complicated our plans. We have to take action now, or we will be locked out of the game. How do you win or put yourself in a winning position?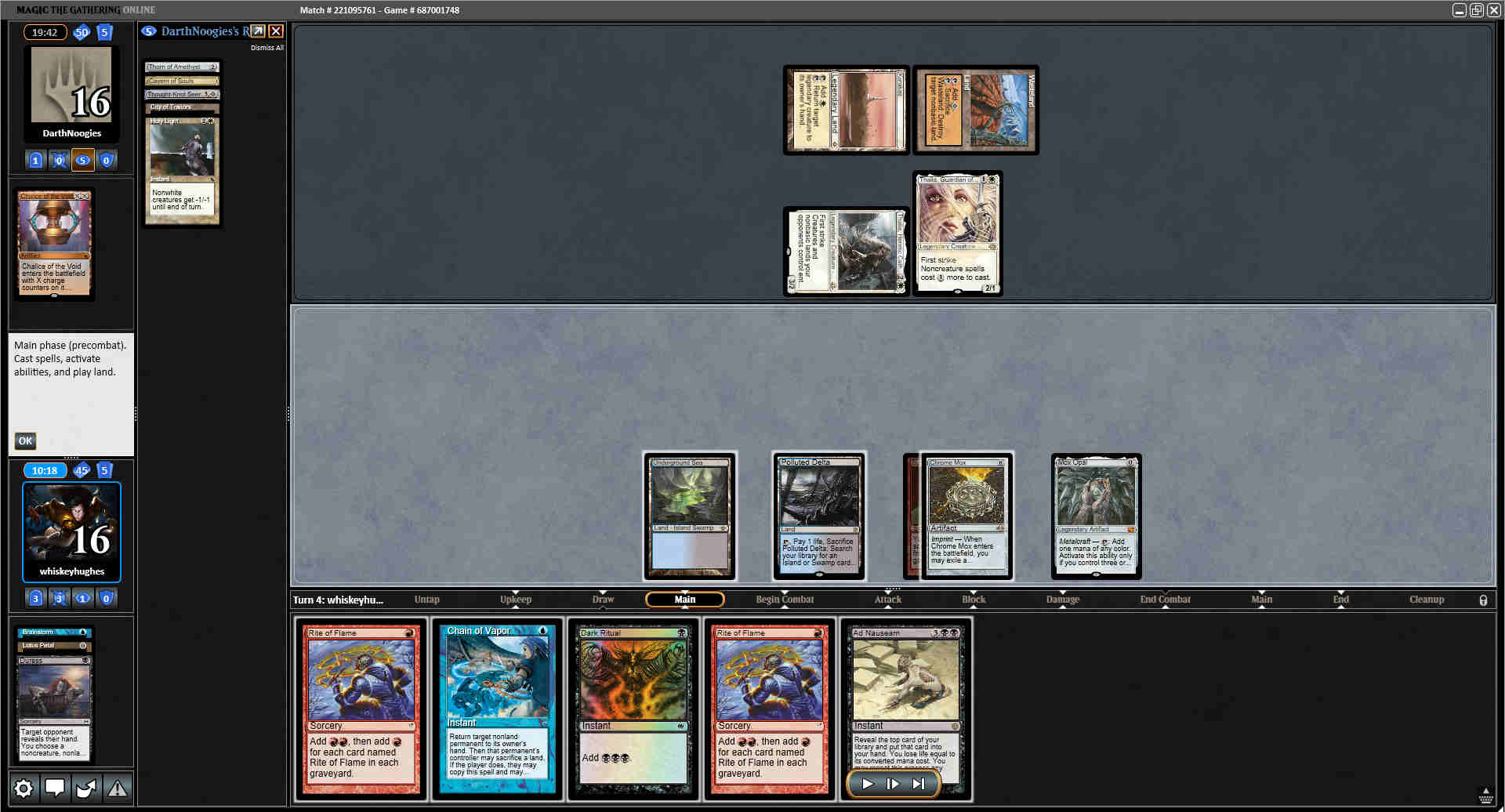 In closing, I want to give a shout out to Cyrus Corman-Gill for winning Magic Fest Atlanta! Taking down a Magic Fest is a huge deal, and the Storm community is proud! Regardless of whether you play ANT or TES, I think we can all come together and agree that Cyrus deserves some major kudos and that Dark Ritual is one hell of a Magic card!
Keep Storming on!