Since our last article, Wizards of the Coast made an unexpected announcement and banned Wrenn and Six from Legacy! While the general consensus was that Wrenn and Six made the format toxic, no one thought that Wizards of the Coast would act on it for a long time, similar to what happened with Sensei's Divining Top and Deathrite Shaman. With any ban, there is always a period of turbulence in the meta, but so far I have seen a noticeable increase in Stompy decks and Jeskai/Bant control decks. For now, I haven't made any changes to the 75, but I have heard of other players playing an increased amount of Echoing Truth and Hope of Ghirapur. Let's jump into our scenarios!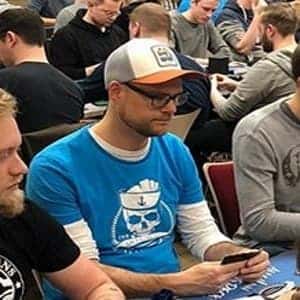 Special Guest
Frederik
Pape
Frederik is a Legacy enthusiast from Hamburg, Germany. He started to play the game in a time where cards like Sneak Attack and Show and Tell where still standard legal and has never lost the passion for the game. Nowadays, you mostly find him playing Legacy tournaments all over the world. The combination of traveling, making friends, and of course the competition playing magic itself make it a unique hobby for Frederik. He was able to make day 2 at both Legacy Grand Prix in Chiba and Prague in 2016 with Grixis Pyromancer, he's also known to dabble with Dredge. Frederik has a preference for unfair decks so chances are high that you are facing a horde of early Zombie Tokens or Goblin Tokens when you play against him. If you've have met Frderik, you know he's the guy who loves Japanese foil cards with gold signatures on them!
Deck List
SITUATION No. 1 – Ad Nauseam Tendrils (ANT)
Despite the name, Ad Nauseam Tendrils (ANT) is a Past in Flames deck at heart. ANT looks to either set up a deterministic Past in Flames kill or a natural Storm kill. With cards like Past in Flames, Cabal Ritual, Tendrils of Agony, and Dark Petition in the main deck, casting Ad Nauseam is often seen as a liability. I would attribute about 50 percent of my wins against ANT to failed Ad Nauseam flips from my opponent. In this matchup, we need to keep an extremely fast or an extremely disruptive hand. Typically, ANT packs about 7-8 discard spells, so it is also wise to play out your Lion's Eye Diamonds before they get discarded!
HOW I SIDEBOARDED:
-2 Ponder +2 Tormod's Crypt
We are currently in game two on the draw. Our opponent played a Tropical Island and a Lion's Eye Diamond. We drew a Mox Opal for turn, which allows us the option to play Ad Nauseam this turn. Would you go for it here? Are you more concerned about a Flusterstorm or a Veil of Summer?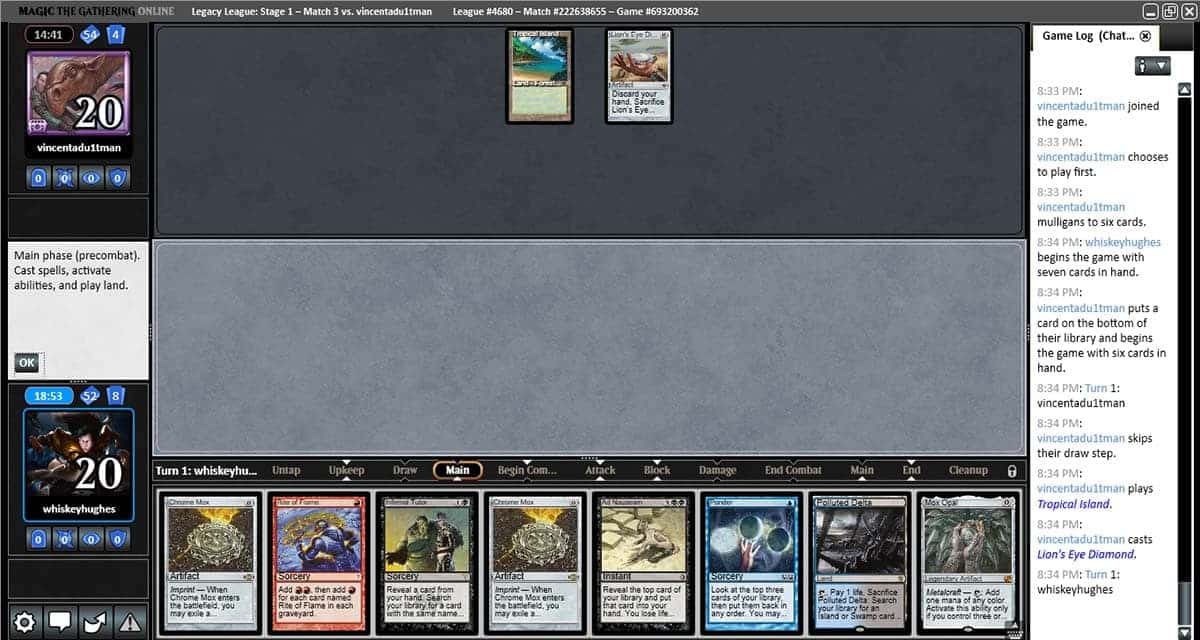 SITUATION No. 2 – BURN
Burn's ultimate goal is to play very efficient creatures like Monastery Swiftspear or Goblin Guide while slinging spells at our face. Burn also has a very efficient turn two anti-Storm creature in their main deck that we need to play around in Eidolon of the Great Revel. The key here is keeping an explosive hand that can go off very quickly. If all of that wasn't stressful enough, you also need to be very careful not to go too low on your Ad Nauseam. Each untapped Mountain represents a potential three damage, and two Mountains can be sacrificed to Fireblast to deal four damage. That is a potential 10 damage on turn two if they have two untapped lands.
We are currently in game one. We made eight Goblin Tokens and are currently in the process of trying to race our opponent, who is currently offering to trade their Eidolon of the Great Revel for two of our Goblin Tokens. It appears that the opponent is locked behind their Eidolon of the Great Revel. Would you block here?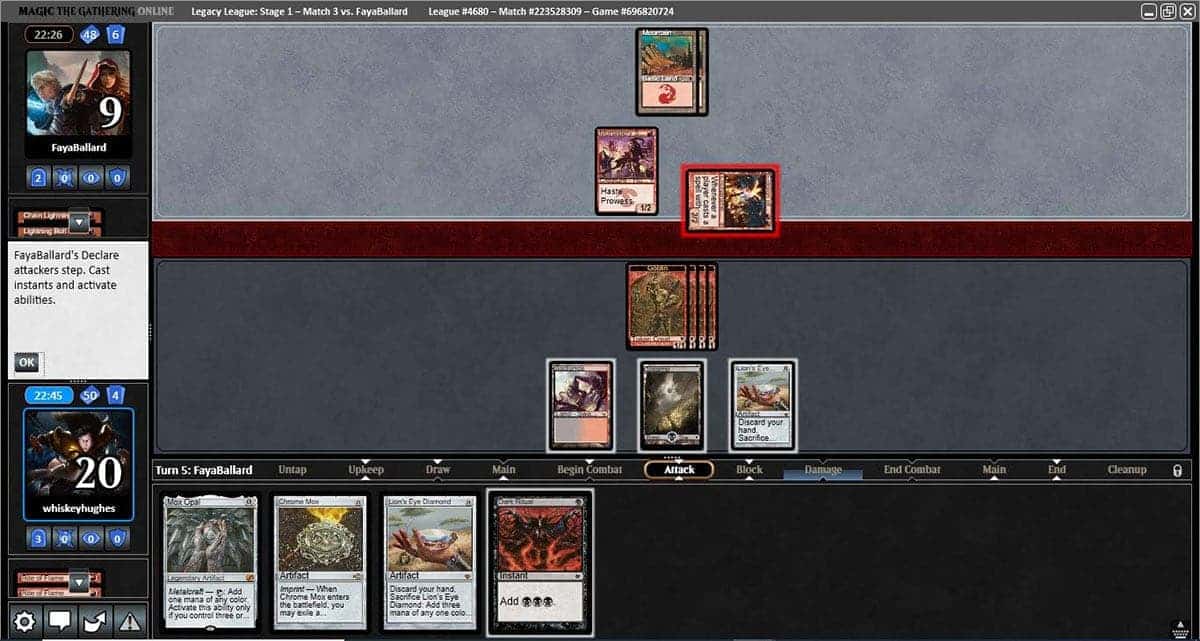 SITUATION No. 3 – MIRACLES
With the latest banning of Wrenn and Six, Miracles is making a comeback! The recent addition of Mystic Sanctuary, Oko, Thief of Crowns, and Veil of Summer has given Miracles a ton of new cards to experiment with. It isn't nearly as feasible to try to play the long game against Miracles because they will crush us with card advantage. We want to beat Miracles before they can stabilize.
HOW I SIDEBOARDED:
-1 Chrome Mox + 1 Defense Grid
In this game, we tried to bait a Counterspell from our opponent by casting Burning Wish. Burning Wish resolved, so we grabbed an Echo of Eons with two copies of Lion's Eye Diamond already in hand. On our fourth turn, we drew an Infernal Tutor. After playing both copies of Lion's Eye Diamond, to which our opponent refused to reveal what was on top of their library, we then attempted to cast Infernal Tutor. We know that the opponent has a Force of Will in hand, and they chose to not reveal what was on top of their library or counter our Infernal Tutor. What would you do here?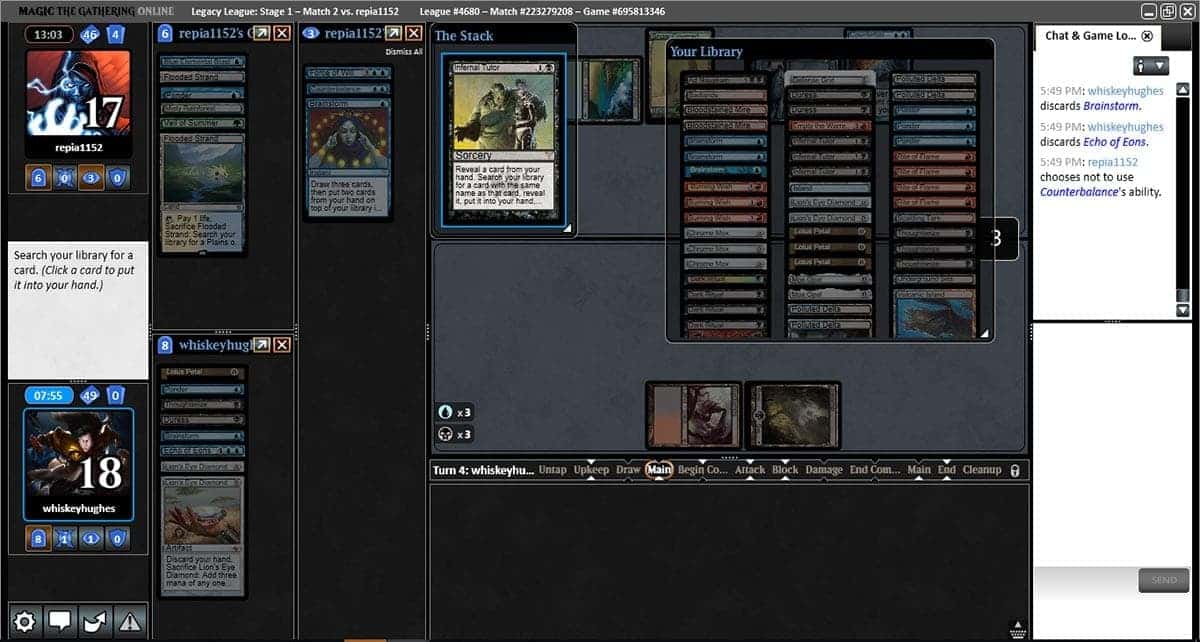 I am very excited to see where the meta shakes out in the next few weeks. There have been some pretty amazing cards printed recently, that have been overshadowed by Wrenn and Six. Until next time, keep storming!