Happy Holidays, Legacy Storm Players! We are back with the final Infernal Tutoring article of the year! Since our last article, the legacy meta has stayed relatively stagnant with no real interesting meta changes. It seems like people are still adjusting to a world where there is no Wrenn and Six. The new spicy deck on the block that everyone is talking about is none other than The EPIC Storm! There have been some pretty big changes to the deck that players have been experimenting with, which has caused the Legacy player-base to tremble in fear as the new best Storm deck takes its throne (I'm only sort of kidding). What does the new The EPIC Storm look like? The main deck Empty the Warrens has been cut for an Echo of Eons. The discard spells have been replaced with Veil of Summer and Defense Grid. Infernal Tutor has been replaced with Wishclaw Talisman. While it is weird to play with no main deck win condition, this deck has some insane potential. The deck can grind as hard as a Past in Flames deck, and it doesn't feel like you have to go "all in" on your combo turn. It is definitely a strange new world, and I encourage everyone to give the new list a try!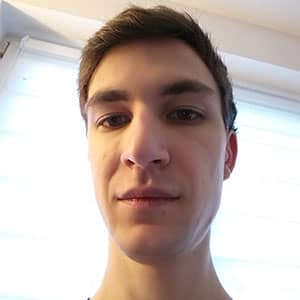 Special Guest
Stefan
Schütz
Stefan had his first contact with Magic: The Gathering at the age of nine and he immediately fell in love with the game. It didn't take him very long to find enjoyment in playing Legacy as well where he discovered various archetypes like Storm and Dredge which would accompany him for the first few years. Whilst he branched out to other formats on the competitive scene and found success like a GP Top 8, a PTQ win and others, he still tries to be on top of the Legacy metagame and also Storm strategies.
Deck List
SITUATION No. 1 – U/R Delver
U/R Delver is the Delver of Secrets deck that has the fastest clock along with a very consistent two color mana base. Playing against U/R Delver can be challenging for The EPIC Storm because they can kill us very quickly, and they are also known for playing lot of disruption and counter magic. While U/R Delver often struggles to beat an early Empty the Warrens, many lists are now playing answers in the sideboard.
We just started off our turn with a Lotus Petal, a Rite of Flame, a Lion's Eye Diamond, a Burning Wish, which our opponent attempted to counter using Force of Will, and then a Veil of Summer that resolved. We were originally going for an Echo of Eons line, but now we are safe to cast Empty the Warrens for 14 Goblin Token. What would you get with Burning Wish and why?
SITUATION No. 2 – Lands
Lands is a prison deck that, as its name implies, plays mostly lands to lock down and imprison its opponent. Lands looks to take advantage of decks that have a greedy mana base with land destruction (Wasteland & Ghost Quarter) that can be recurred with Life from the Loam. Lands is also capable of creating a 20/20 Marit Lage Token token very quickly which can catch players off guard. While lands is generally a great match up for The EPIC Storm, there are times where they can lock you out of the game, especially in sideboard games where they can bring in Sphere of Resistance.
HOW I SIDEBOARDED:
-3 Ponder, -2 Defense Grid, +2 Crash, +1 Chain of Vapor, +1 Echoing Truth, +1 Rite of Flame
We are currently in game two on the draw. Our opponent chose to mulligan to five, but still found a hand that is heavy on mana denial. How can you win, or put yourself into a winning situation?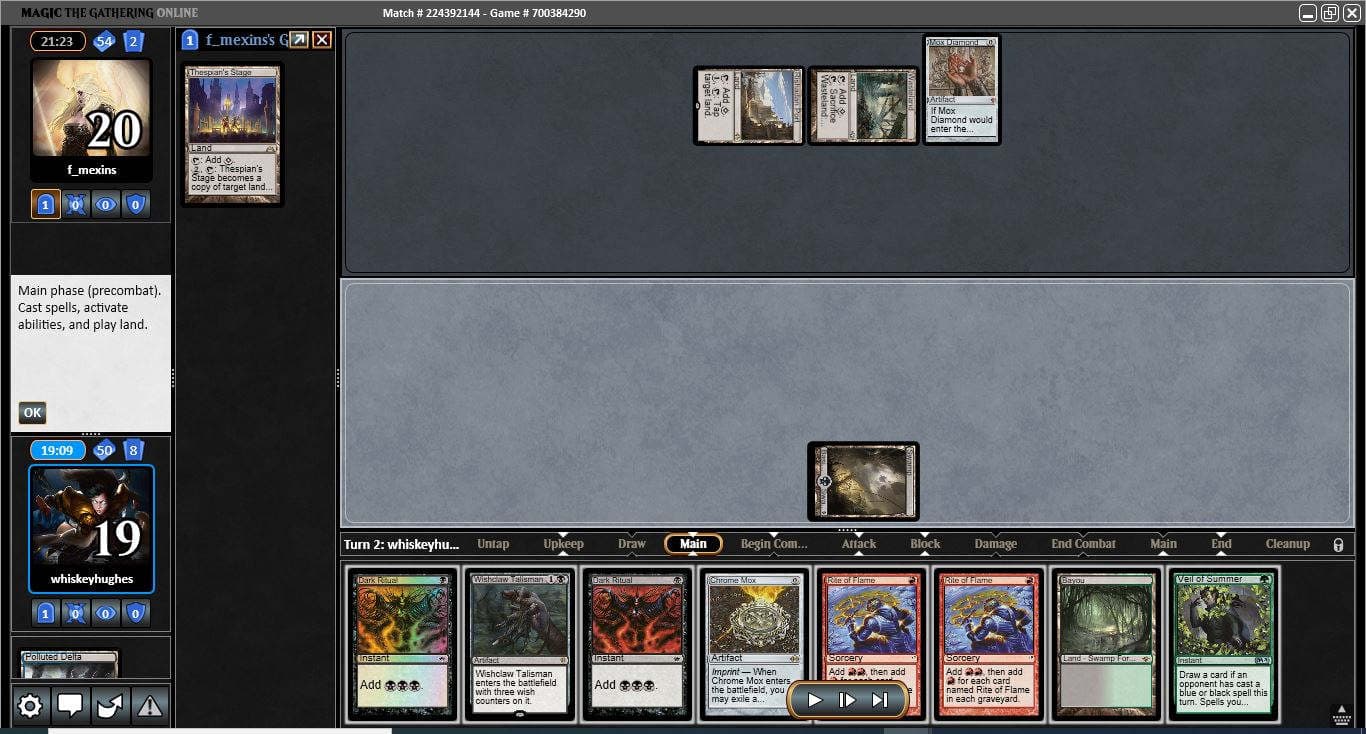 SITUATION No. 3 – Elves
Elves is a deck that mostly disappeared off the face of the earth when Wrenn and Six was in its heyday. Elves generally looks to kill its opponent by flooding the board with a lot of Elves, and then casting Natural Order to kill the opponent with a Craterhoof Behemoth. Elves is typically a great matchup for The EPIC Storm, but with the recent sets they got some new toys; Veil of Summer and Collector Ouphe. If you keep a relatively fast hand that doesn't depend on Empty the Warrens, you should have very little trouble winning the match.
HOW I SIDEBOARDED:
-2 Defense Grid, -1 Ponder, +1 Chain of Vapor, +1 Echoing Truth, +1 Rite of Flame
We are currently in game three on the draw. Our opponent was able to disrupt us with an early Collector Ouphe that slowed us down. After a couple of cantrips, we were able to form a hand that can take some action. Being at 10 life against elves is pretty terrifying, so what would you do to either win or put yourself in a winning situation?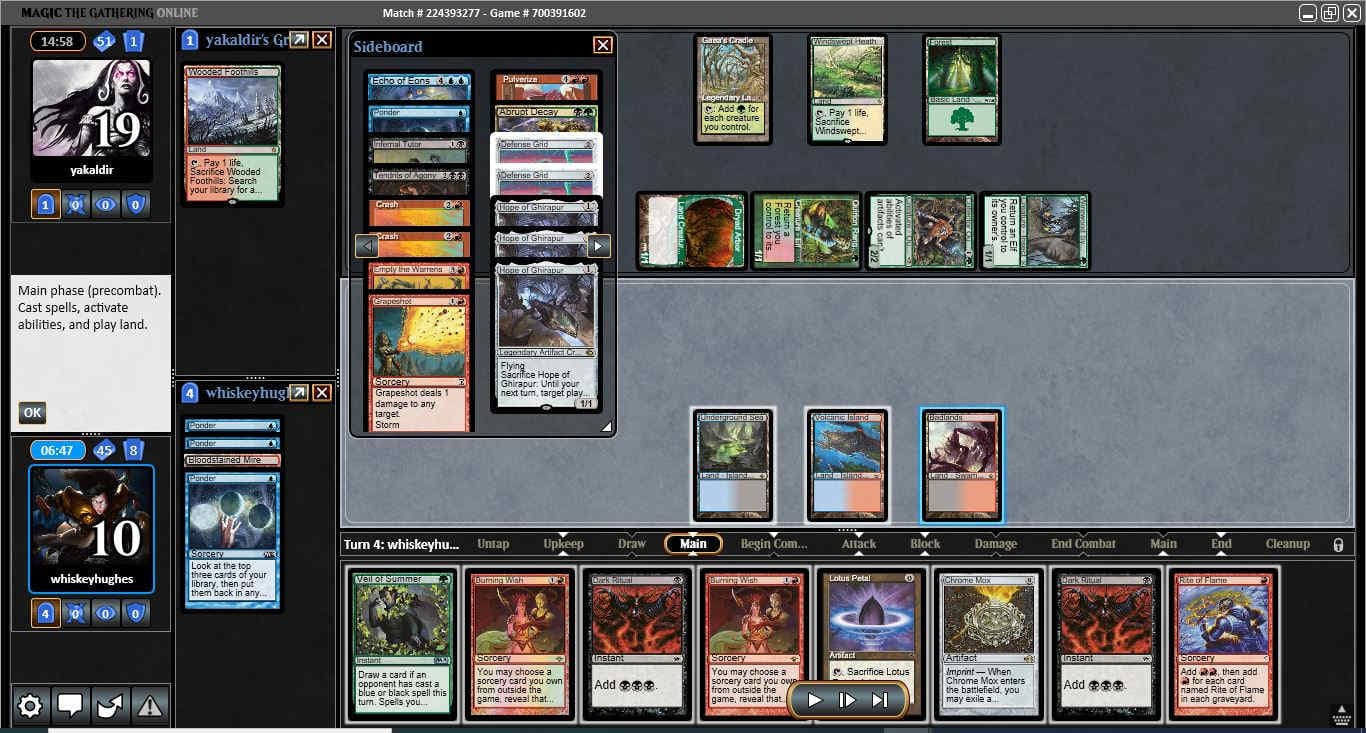 As we wrap up the year, I want to wish everyone a Happy Holidays! I hope that everyone's New Year Resolutions come true, and that The EPIC Storm continues to get stronger as the community continues to collaborate and try new things! Keep Storming On!