Hey everyone! Another reminder that The EPIC Storm Challenge is going on! Make sure to follow the instructions for how to participate. As far as updates to The EPIC Storm are concerned, some of us have been trying [[Massacre]] due to the rise of Death & Taxes recently — but for the purposes of this article the main decks are identical.
For this article, we have a very special guest — Julian Carr!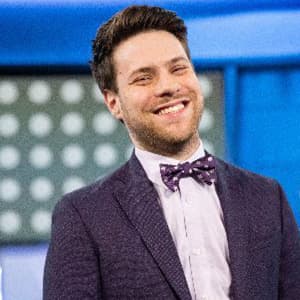 Special Guest
Julian
Carr
(Twitter: @Pastrytime | MTGO: Pastrytime)
Best known for his play by play work on the League of Legends Championship Series (LCS), Julian has been playing Magic for the better part of two decades. Legacy is his favorite format and The EPIC Storm (TES) is his deck of choice — Julian has even won an Underground Sea at a local once (but he was playing Miracles don't tell Bryant)!

Julian loves coffee, collecting foils, and casting [[Gifts Ungiven]]. You can catch Julian counting to 10 and watching eSports just about anytime of day.
Deck List
the
epic
Storm
Main Deck
4 [[Burning Wish]]
4 [[Wishclaw Talisman]]
4 [[Brainstorm]]
4 [[Ponder]]
1 [[Tendrils of Agony]]
1 [[Ad Nauseam]]
1 [[Echo of Eons]]
4 [[Veil of Summer]]
2 [[Defense Grid]]
4 [[Rite of Flame]]
4 [[Dark Ritual]]
4 [[Lion's Eye Diamond]]
4 [[Lotus Petal]]
3 [[Mox Opal]]
3 [[Chrome Mox]]
4 [[Bloodstained Mire]]
2 [[Polluted Delta]]
1 [[Verdant Catacombs]]
1 [[Underground Sea]]
1 [[Tropical Island]]
1 [[Volcanic Island]]
1 [[Taiga]]
1 [[Badlands]]
1 [[Swamp]]
Sideboard
4 [[Carpet of Flowers]]
2 [[Abrupt Decay]]
2 [[Chain of Vapor]]
1 [[Thoughtseize]]
1 [[Grapeshot]]
1 [[Empty the Warrens]]
1 [[Tendrils of Agony]]
1 [[Pulverize]]
1 [[Echo of Eons]]
1 [[Peer into the Abyss]]
SITUATION No. 1 — BG "Slow" Depths
"Slow" Depths as some people refer to it as is the version of Golgari Depths without [[Lotus Petal]] or [[Elvish Spirit Guide]] to accelerate its plan. Instead, this version uses [[Mox Diamond]] to power out [[Vampire Hexmage]] or the [[Thespian's Stage]] combo.
We're in game one versus the slower version of Golgari Depths, and our opponent has tapped out for [[Sylvan Library]] on the first turn. What would you do here?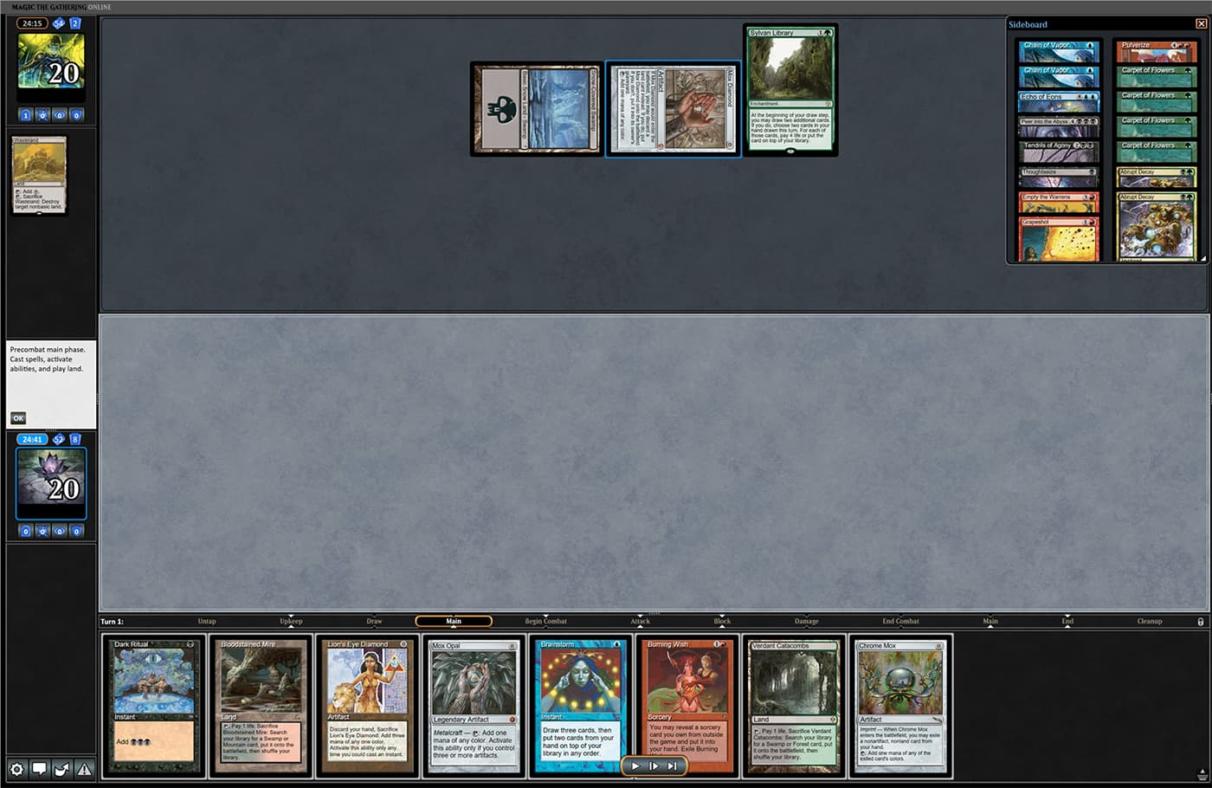 SITUATION No. 2 — SharkStill (AKA. Landstill)
SharkStill is a blue and white control deck that uses the card [[Standstill]] along with cards that synergizes well with it. Essentially, these are cards that have an activated or triggered ability that wouldn't trigger the [[Standstill]] such as [[Mishra's Factory]] or [[Shark Typhoon]]. Outside of that, it's pretty much the same shell as Miracles — [[Force of Will]], [[Ponder]], [[Brainstorm]], [[Swords to Plowshares]], etc.
SIDEBOARDING:
-4 [[Rite of Flame]], -1 [[Chrome Mox]], +3 [[Carpet of Flowers]], +2 [[Abrupt Decay]]
We're in the second game and the board-state has been ground to a halt after [[Carpet of Flowers]] was countered by [[Dovin's Veto]] and [[Wishclaw Talisman]] was destroyed by [[Wear / Tear]]. How would you choose to play out the game from here?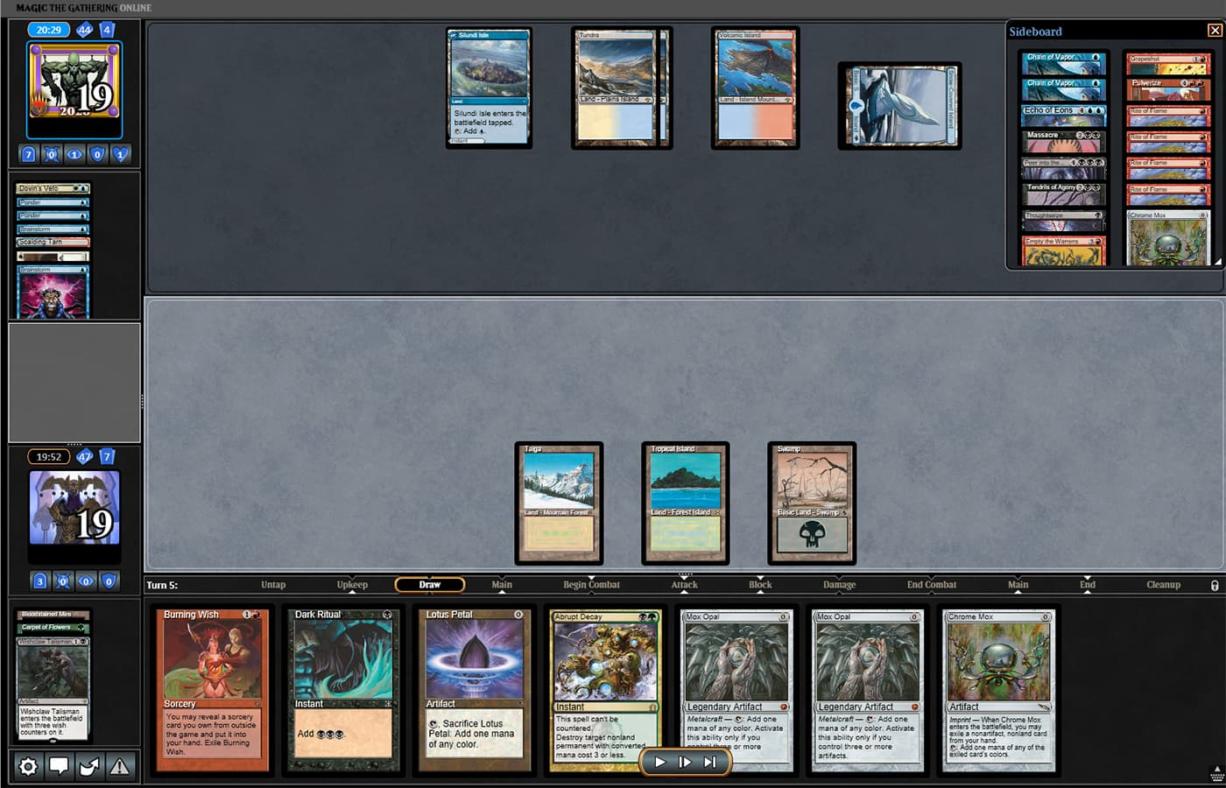 SITUATION No. 3 — Doomsday
[[Doomsday]] is a combo deck that gets to play both [[Dark Ritual]] and [[Force of Will]], which makes it fairly unique but also very scary to face. You never know if you'll die on the first turn or run into counter magic. How [[Doomsday]] wins is by casting its name-sake card, drawing a few cards, and then casting [[Thassa's Oracle]].
SIDEBOARDING:
None.
It's game two (on the play), and we're in the middle of resolving [[Brainstorm]]. What do you put back? How do you play the rest of this turn and/or game?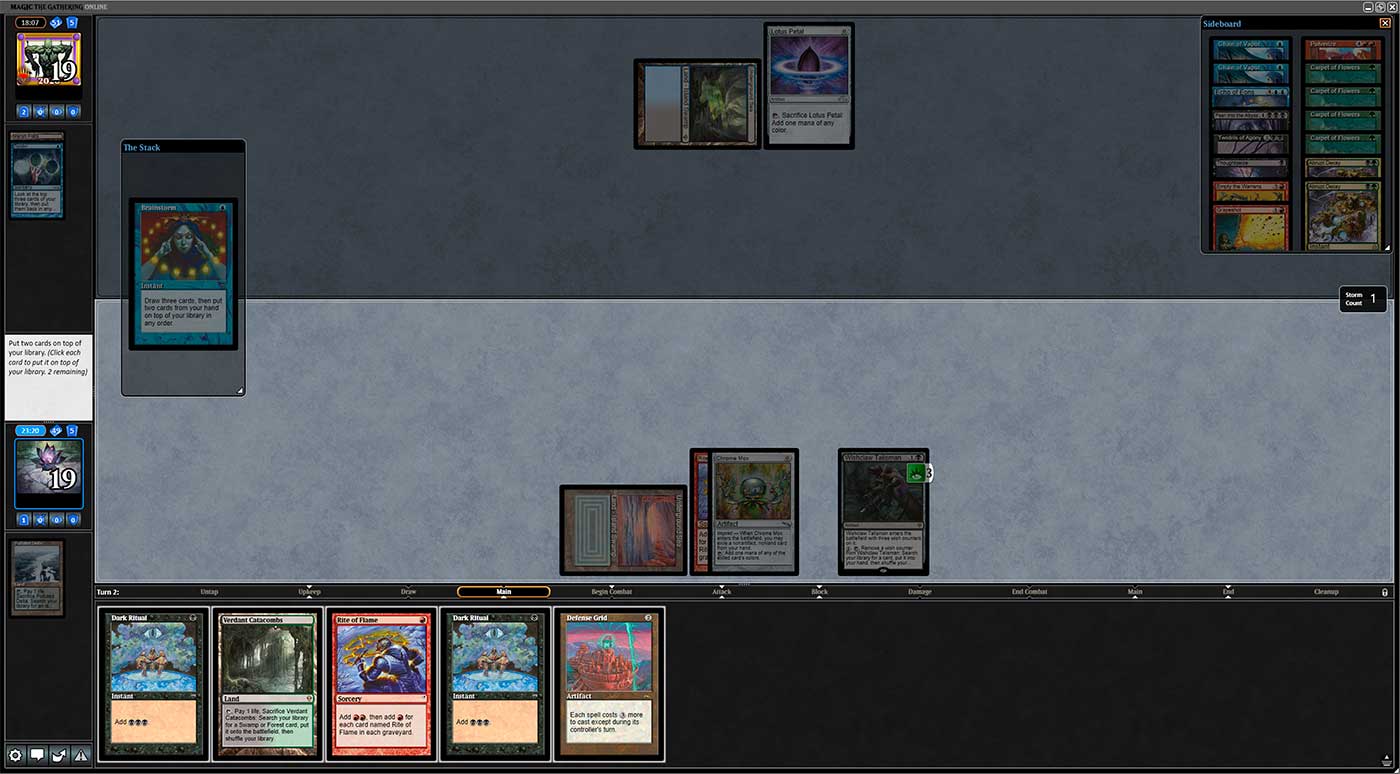 ---
Want to see your play?
We're now allowing for fan-based submissions for "Infernal Tutoring!" In order to submit, scroll down to the footer to the contact form. Attach your screenshot, describe the situation in detail, and press submit!
Disclaimer: Regarding the details of the scenarios, we do not want what the outcome of the situation is. For example, if the question is, "Do I go for it here?" do not tell the team if your opponent had [[Force of Will]] or not. This information honestly doesn't matter for our purposes and it doesn't change the answer if it's correct or not to cast the business spell. Thank you for your understanding.
Instructions
Use the subject line of "Infernal Tutoring"
Write what list you are playing and if there's anything special about your list compared to the current stock version. Scenarios that contain the current list are more likely to be selected.
If possible, please resize your images to be no larger than 1400px wide and preferably under 125kb. This will make our job easier, if you're unfamiliar how to do this that's okay too. Still message us with your scenarios!