Happy New Year! The time is ripe for change as we usher in a new season of Magic. But until that change occurs, we have a set of fun scenarios to delve into today with The EPIC Storm.
The Legacy meta has not changed much since the last Infernal Tutoring episode. UR Delver continues to be in the top tables at each event, along with other [[Ragavan, Nimble Pilferer]] decks. Players seek to combat this presence by using everything from four- and five-color control monstrosities to Elves to new 8-Cast strategies. The EPIC Storm has often thrived in positions where fair Blue arms races are occurring. Unfortunately, the presence of other combo decks does threaten our strengths against the meta as a whole. Deck pilots need to be acutely aware of every little detail in a game to take a losing scenario to a winning one. These month's situations might help you out.
Our list has not changed at all in recent months. v12.5 is a strong contender as one of the best combo decks in the current format. Let's keep it that way!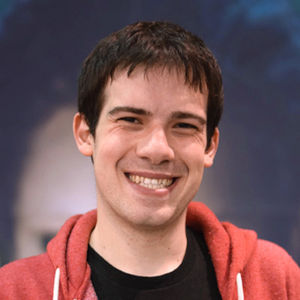 Special Guest
ARI
LAX
(Twitter: @armlx | MTGO: armlx)
In addition to a Pro Tour win and nine Grand Prix Top 8s in other formats, Ari Lax has a long history with Legacy Storm including multiple SCG Tour Legacy Open Top 8s. In that other format domain, he is a cohost of the Modern podcast Dominaria's Judgment and a writer for starcitygames.com. The EPIC Storm also requires him to mention he lost the ANT versus TES semi-mirror to Bryant Cook playing for the Top 8 of a Grand Prix.
Deck List
the
epic
Storm
Main Deck
4 [[Burning Wish]]
4 [[Wishclaw Talisman]]
4 [[Brainstorm]]
4 [[Ponder]]
1 [[Tendrils of Agony]]
1 [[Ad Nauseam]]
1 [[Echo of Eons]]
4 [[Veil of Summer]]
2 [[Orim's Chant]]
4 [[Rite of Flame]]
4 [[Dark Ritual]]
4 [[Lion's Eye Diamond]]
4 [[Lotus Petal]]
3 [[Mox Opal]]
3 [[Chrome Mox]]
3 [[Verdant Catacombs]]
2 [[Scalding Tarn]]
2 [[Polluted Delta]]
1 [[Underground Sea]]
1 [[Tropical Island]]
1 [[Tundra]]
1 [[Scrubland]]
1 [[Badlands]]
1 [[Taiga]]
Sideboard
3 [[Prismatic Ending]]
2 [[Abrupt Decay]]
1 [[Grapeshot]]
4 [[Galvanic Relay]]
1 [[Empty the Warrens]]
1 [[Tendrils of Agony]]
1 [[Massacre]]
1 [[Echo of Eons]]
1 [[Peer into the Abyss]]
SITUATION No. 1 — BURN
Our first opponent is playing Legacy Burn! This deck is an old classic that seeks to reduce their opponent's life total to zero quickly and efficiently with the use of "burn" spells like [[Lightning Bolt]] and [[Lava Spike]]. Lacking in significant ways to interact with our combo, Burn players seek to land a turn two [[Eidolon of the Great Revel]] and put the brakes on our strategy with the one creature. Barring that, Burn does damage in multiples of three, meaning it only takes seven spells to end us. Less, if cards like [[Fireblast]] and creatures like [[Monastery Swiftspear]] are used. The most potent burn spell that can be used against us is [[Price of Progress]], laughing at all the Basic-less tuning our mana base has undergone. Our goal is to keep hands that win quickly and avoid putting [[Ad Nauseam]] on the stack at all costs.
SIDEBOARDING:
-1 [[Ad Nauseam]], -4 [[Veil of Summer]], -2 [[Orim's Chant]], +3 [[Galvanic Relay]], +2 [[Abrupt Decay]], +2 [[Prismatic Ending]]
This scenario is tough. We see an [[Eidolon of the Great Revel]] sitting across from us, our nemesis. Can we win despite this hatebear on the battlefield? On the previous turn, [[Galvanic Relay]] exiled six cards for us to play with and we have already cast our sideboard [[Echo of Eons]]. What can we do to possibly stabilize from here?
SITUATION No. 2 — Abzan Loam
[[Life from the Loam]] strategies are as varied as they are strong in this current meta. From Lands to Bant Control, [[Life from the Loam]] is seeing a renaissance of use. In this particular build, our opponent has paired the marquee card with threats/tutors in [[Elvish Reclaimer]], [[Knight of the Reliquary]], and [[Green Sun's Zenith]]; White removal in [[Prismatic Ending]]; and a lands package including four [[Urza's Saga]]. As with most fair non-Blue decks, the sideboarded games are significantly more difficult than the first. [[Collector Ouphe]] is the biggest concern of ours, able to be tutored with [[Green Sun's Zenith]] and work in concert with [[Wasteland]] to hinder our mana development in the early and mid-game. Other cards they have access to include [[Force of Vigor]] for additional artifact hate, and [[Plague Engineer]] to remove early [[Goblin Token]]s from [[Empty the Warrens]].
We are in game one and our turn two draw was [[Ad Nauseam]], normally something we want to tutor with [[Wishclaw Talisman]]. How can we turn a profit for the home team?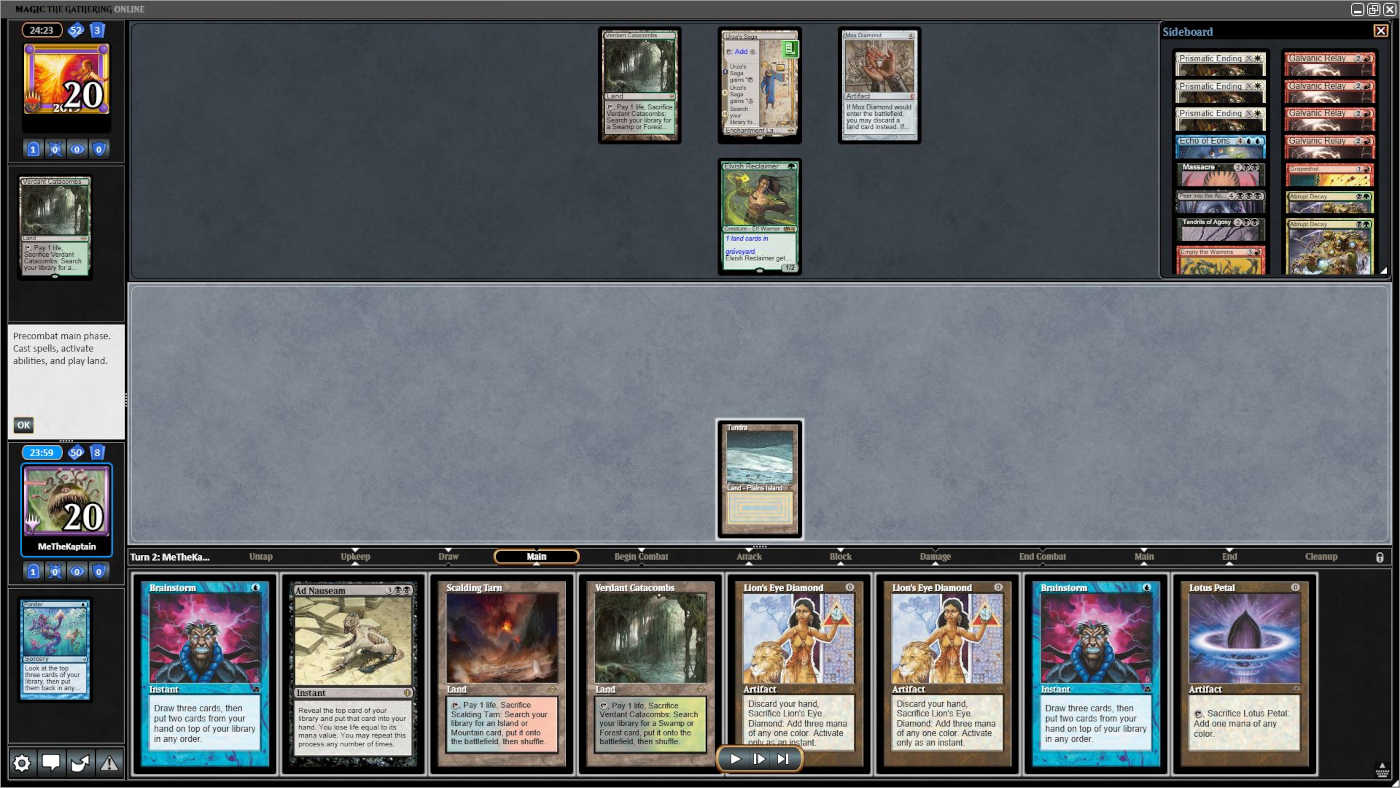 SITUATION No. 3 — UR Delver
Yet again, we face the so-called boogeyman of the format. [[Delver of Secrets]] decks (or more accurately, [[Ragavan, Nimble Pilferer]] decks) are still at the top of the meta, leading to many discussions revolving around cards in the deck and their longevity in the Legacy format. Early threats backed up with countermagic and disruption is a sure-fire way to succeed in Legacy. The cards that are of most concern to Storm players are [[Force of Will]]/[[Force of Negation]], [[Daze]], [[Wasteland]], [[Surgical Extraction]], [[Pyroblast]]/[[Hydroblast]], and [[Meltdown]]. They don't like losing to combo! These Delver decks are not typically playing [[Null Rod]] like they used to, favoring more stack-based interaction over something that can be removed with [[Prismatic Ending]] and doesn't impact [[Urza's Saga]] enough – a small consolation and one that moderately alters our sideboard plan. Our biggest goal is to overwhelm their interaction with [[Galvanic Relay]] backed up with [[Orim's Chant]]/[[Veil of Summer]] protection. If we get a read that we don't have to bring in copies of [[Abrupt Decay]], all the better.
SIDEBOARDING:
-2 [[Ponder]], -1 [[Ad Nauseam]], +3 [[Galvanic Relay]]
We're in a crazy third game! After two turns casting large [[Galvanic Relay]]s where one whiffed and the most recent one had the Storm trigger countered by a [[Stifle]], we have reached the position shown with the help of our main deck copy of [[Echo of Eons]]. We just untapped and drew a [[Burning Wish]]. Note our exiled [[Wishclaw Talisman]], able to be played this turn. How would you proceed through this turn and provide the highest chance for success this turn or the next?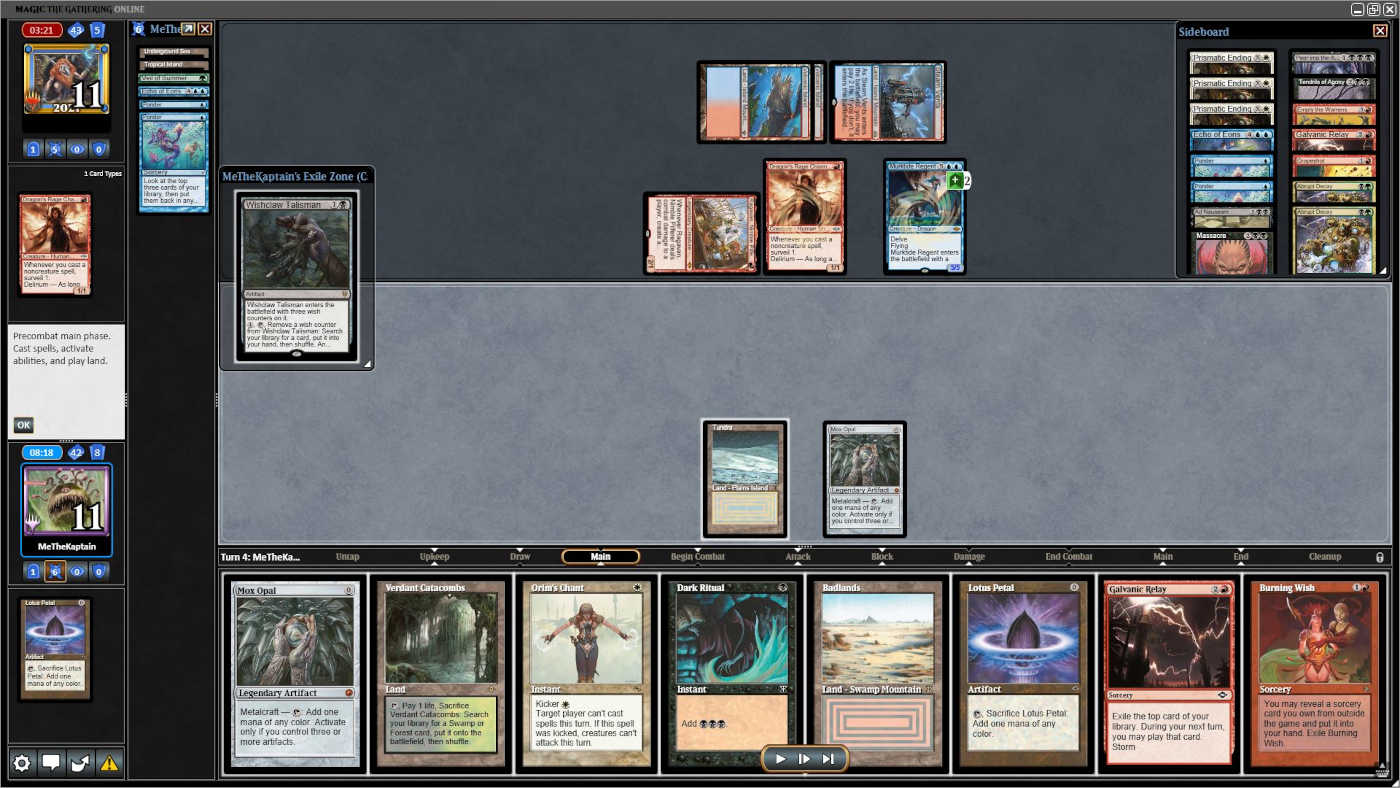 ---
Want to see your play?
We're now allowing for fan-based submissions for "Infernal Tutoring!" In order to submit, scroll down to the footer to the contact form. Attach your screenshot, describe the situation in detail, and press submit!
Disclaimer: Regarding the details of the scenarios, we do not want what the outcome of the situation is. For example, if the question is, "Do I go for it here?" do not tell the team if your opponent had [[Force of Will]] or not. This information honestly doesn't matter for our purposes and it doesn't change the answer if it's correct or not to cast the business spell. Thank you for your understanding.
Instructions
Use the subject line of "Infernal Tutoring"
Write what list you are playing and if there's anything special about your list compared to the current stock version. Scenarios that contain the current list are more likely to be selected.
If possible, please resize your images to be no larger than 1400px wide and preferably under 125kb. This will make our job easier, if you're unfamiliar how to do this that's okay too. Still message us with your scenarios!