Streets of New Capenna, the latest Standard set, introduced a surprising number of cards for constructed formats. As it pertains to Legacy, there's a new Blue threat on the block! [[Ledger Shredder]] has taken players by storm as a bridge between [[Dragon's Rage Channeler]] and [[Murktide Regent]]. In fact, a phenomenon we have all seen before is happening again. Spurred on this time in an article written by MTGO user Bullwinkkle6705 on the juxtaposition of two contradictory gameplans, UR Delver is cutting the marquee card [[Delver of Secrets]] in favor of more controlling cards like [[Predict]]. With the printing of [[Ledger Shredder]], the adoption of this playstyle has increased. The EPIC Storm players should be on the lookout for these decks. While our playstyle normally does not include sideboarding in our copies of [[Abrupt Decay]], some Delver-less Delver decks have played copies of [[Counterbalance]] in their sideboards. Consider bringing in the two removal spells once you see which version your opponent is on.
Another change to the Legacy metagame has been an uptick in Storm strategies. With continued performance in weekly Challenges, the percentage of players casting [[Tendrils of Agony]] has increased. In response to these numbers, players have been preparing for us in their sideboard. Whether through the inclusion of hate bears or copies of [[Veil of Summer]], being a Storm player has gotten slightly harder in recent weeks. To that end, The EPIC Storm v12.9 has been rolled out. This version is doing things slightly differently! The card in our sideboard that has been the most awkward is [[Carpet of Flowers]] number four. Sideboard mapping against UR Delver and UWx Control had an awkward card that had to come out of the mainboard to make room for the fourth [[Carpet of Flowers]]. The EPIC Storm v12.9 removes it, but replacing the slot is a little different than previous versions. The 15th sideboard slot is acting as an official "Flex Slot". Instead of having a decklist version for every card that would fit in the slot, v12.9 is all of them. [[Grapeshot]], [[Pulverize]], and [[Massacre]] are the top three options for any particular week. Looking into top-performing decks and trying to predict meta shifts will allow one card to fill the slot over another. On the whole, having this added functionality helps to answer problems that v12.8 was designed to ignore. Check out our deck tech and MTGO league playthrough on YouTube for more details!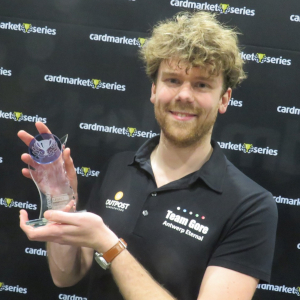 Special Guest
SAM
DAMS
(Twitter: @Fenruscloud | Patreon: Fenruscloud)
Sam Dams aka Fenruscloud is known for always playing his pet deck in Legacy: Infect. He started playing the deck in 2016, and hasn't stopped brewing and innovating since. He can be found streaming once a week and writes dedicated Infect content on his Patreon for both Modern and legacy.
Deck List
the
epic
Storm
Main Deck
4 [[Burning Wish]]
4 [[Wishclaw Talisman]]
4 [[Brainstorm]]
4 [[Ponder]]
1 [[Galvanic Relay]]
1 [[Tendrils of Agony]]
1 [[Ad Nauseam]]
1 [[Echo of Eons]]
4 [[Veil of Summer]]
1 [[Defense Grid]]
4 [[Rite of Flame]]
4 [[Dark Ritual]]
4 [[Lion's Eye Diamond]]
4 [[Lotus Petal]]
3 [[Chrome Mox]]
3 [[Mox Opal]]
3 [[Verdant Catacombs]]
2 [[Bloodstained Mire]]
2 [[Polluted Delta]]
1 [[Tropical Island]]
1 [[Badlands]]
1 [[Underground Sea]]
1 [[Volcanic Island]]
1 [[Taiga]]
1 [[Swamp]]
Sideboard
4 [[Carpet of Flowers]]
3 [[Galvanic Relay]]
2 [[Abrupt Decay]]
2 [[Chain of Vapor]]
1 [[Empty the Warrens]]
1 [[Tendrils of Agony]]
1 [[Echo of Eons]]
1 [[Peer into the Abyss]]
SITUATION No. 1 — Peer into the Abyss Storm
Ever since [[Peer into the Abyss]] was printed, Storm players have been salivating over the most effective way to utilize one of the most powerful draw spells printed. Getting to the seven mana required can be tough, but the reward for doing so is often just winning the game. The most well-known adopter of [[Peer into the Abyss]] is The EPIC Storm itself, functioning as a perfect [[Burning Wish]] target that replaced the [[Dark Petition]] + [[Ad Nauseam]] slot for the same mana requirements. Ad Nauseam Tendrils has also played [[Peer into the Abyss]] in the sideboard as a juke when [[Ad Nauseam]] is too intensive on their life total. The dedicated [[Peer into the Abyss]] deck is quite different from these two more well-known Storm strategies.
Because PITA Storm seeks to just cast a single high mana value spell, they can function similarly to Doomsday by running [[Force of Will]] and [[Daze]] protection for their combo. Cards like [[Thoughtseize]] and [[Duress]] naturally slot into this base UB deck. The fairly linear plan has a fair amount of disruption and never wins a game in half measures. If PITA Storm is winning, everyone knows.
Playing The EPIC Storm, [[Veil of Summer]] is a fantastic card to have in your hand. Attempting to combo off with a protection spell is a good idea as [[Force of Will]] plays double duty as interaction against our combo as well as protection for theirs. Plans that take more than one turn (like [[Echo of Eons]] and pass, or a large [[Galvanic Relay]]) are less likely to succeed in the midgame where PITA Storm can quickly pivot from control to the beatdown. [[Ad Nauseam]] and our own [[Peer into the Abyss]] are key avenues to victory. Hopefully, we can land a protected [[Defense Grid]] and not worry about sideboard copies of [[Flusterstorm]].
SIDEBOARDING:
-1 [[Galvanic Relay]]; +1 [[Chain of Vapor]]
Our situation starts on our turn two after a [[Veil of Summer]] was cast on a [[Force of Negation]] attempting to stop an [[Echo of Eons]]. We have just drawn our seven fresh cards and still have floating. The world is our oyster. Can we set up for a lethal turn three? What is our best plan of attack if we want to continue this turn?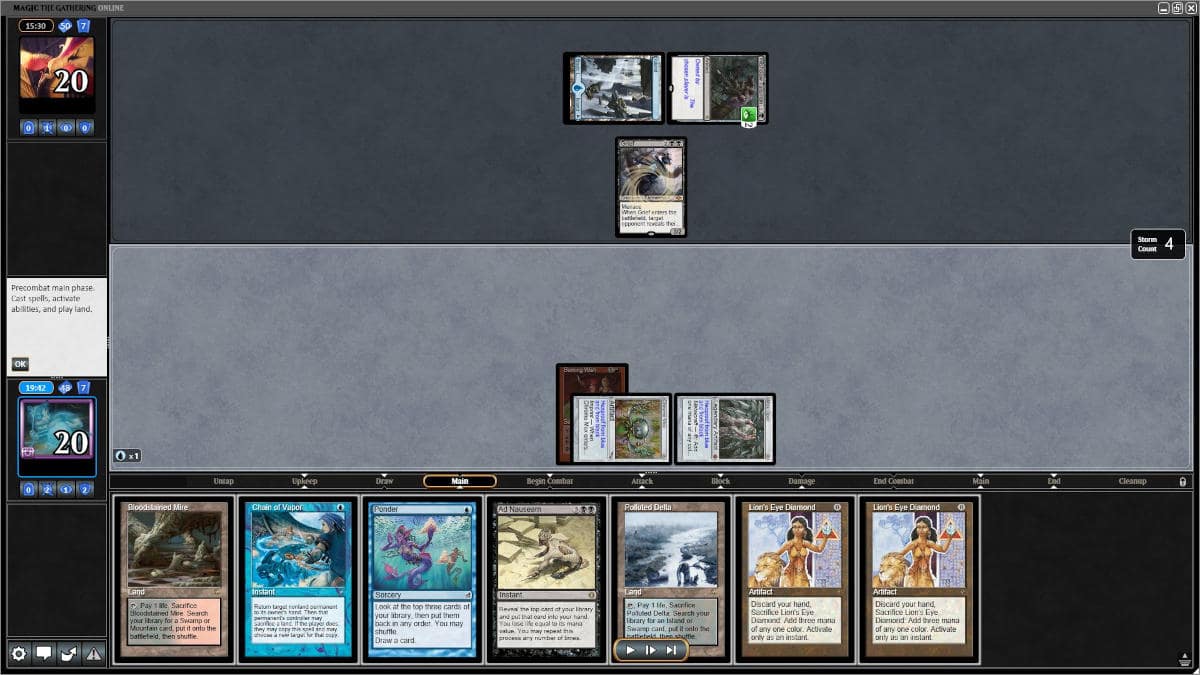 SITUATION No. 2 — ELVES
Who says combo decks have to play blue or black? Seemingly appearing in stark contrast to our first scenario's [[Dark Ritual]] plan, Elves eschews traditional combo looks for one of Legacy's classic archetypes: Green Creatures Go Brrr. With the goal of casting elves into an active [[Glimpse of Nature]], playing tricks with [[Wirewood Symbiote]] and [[Heritage Druid]], and finishing out with a massive [[Craterhoof Behemoth]], it is often said that Legacy Elves is the most consistent turn-three combo deck in the format.
With printings of [[Allosaurus Shepherd]] and [[Endurance]], Elves can combat some of its more difficult matches with ease. Storm strategies are still a struggle for the deck, however. Very little stack interaction is played by Elves, choosing instead to focus on matchups where their sideboard slots better attack the opponent. Because of this, The EPIC Storm can be seen as a heavy favorite. That doesn't mean Elves will lose without a fight. [[Collector Ouphe]] and [[Thoughtseize]] are the two biggest ways points of interaction to be aware of. Especially against The EPIC Storm, a tutor-able [[Null Rod]]-effect can be devastating to play against! This is certainly the card we need to be most aware of in our gameplay as well as our sideboarding.
SIDEBOARDING:
-2 [[Veil of Summer]], -1 [[Defense Grid]], -1 [[Galvanic Relay]]; +2 [[Chain of Vapor]], +2 [[Abrupt Decay]]
In our situation, we are attempting to resolve a [[Brainstorm]] on our turn two. We are post-[[Echo of Eons]] with floating and enough Storm to kill anything that moves (Storm is 10). Some of the concerns that might be considered are [[Force of Vigor]] or [[Surgical Extraction]]. How best can we use this enticing [[Chain of Vapor]] in our hand this turn?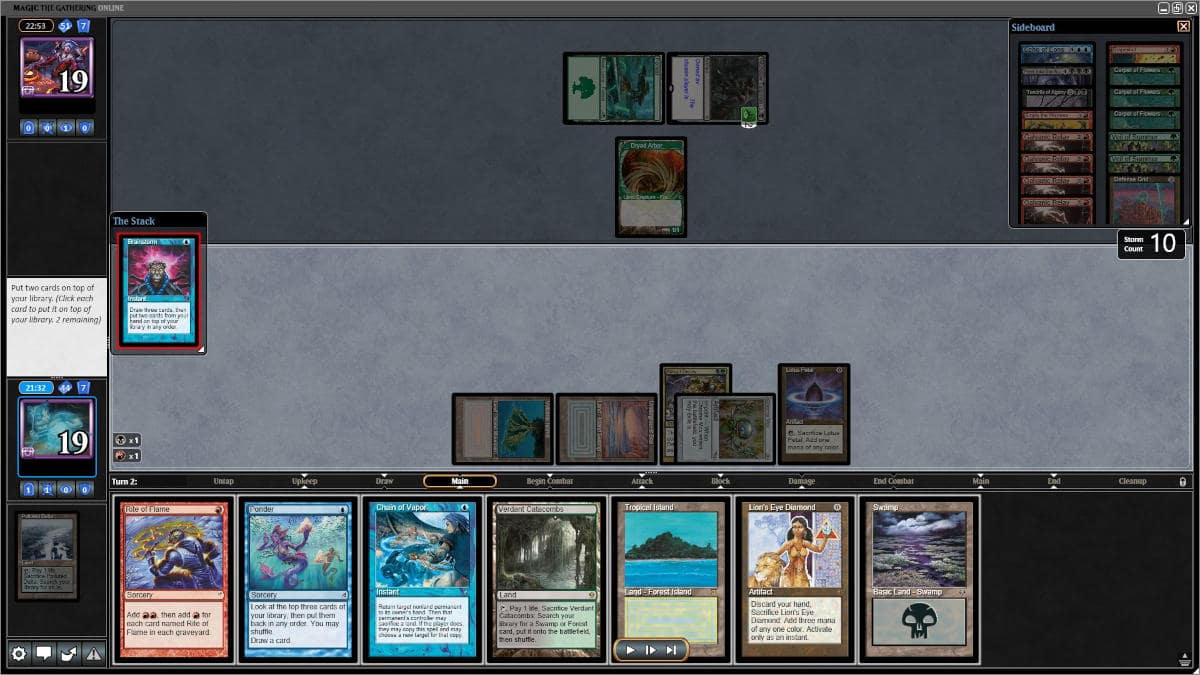 SITUATION No. 3 — 4C YORION CONTROL
As with any midrange arms race in Magic, there is always a faction that wants to go bigger and bolder. [[Yorion, Sky Nomad]] allows these styles of decks to thrive where they may otherwise falter. Typically, these decks are four colors with a base of Blue and Green for [[Uro, Titan of Nature's Wrath]]. Splash colors are very customizable and offer personality to a given 80-card deck. Pilots can tweak card choices for weeks, calmly honing in on a "perfect" 95. Some big weaknesses of these decks are greedy manabases and being filled with more than a normal amount of air. Cantripping through one's deck is a powerful tool to find specific answers to specific situations. However, too much of a good thing can lead to halting attempts to find the cards necessary to stabilize a board state. These control decks have powerful mid-to-late game plans, provided they get their feet underneath them.
As it pertains to The EPIC Storm, 80-card [[Yorion, Sky Nomad]] decks often play a mix of permanent-based hate and stack interaction. [[Galvanic Relay]] is a key engine to lean on. We can grind just as well, if not better, than many fair Blue decks in the format currently. By focusing on these strengths and not making attempts to win without the proper protection, we can do our best to ensure a swift victory for The EPIC Storm.
SIDEBOARDING:
-4 [[Ponder]], -1 [[Chrome Mox]], -1 [[Mox Opal]], -1 [[Echo of Eons]]; +3 [[Carpet of Flowers]], +2 [[Galvanic Relay]], +2 [[Abrupt Decay]]
Our last scenario begins in the middle of a crucial turn. Once again, [[Brainstorm]] is on the stack and we must decide what to put back and how to continue through the turn and remainder of the game. The beginning of the turn was spent casting a duplicate [[Carpet of Flowers]] and a [[Veil of Summer]] (which resolved). Our opponent knows about the [[Echo of Eons]] in our hand, it was previously tutored from the sideboard with a [[Burning Wish]]. The primary concern here is a Flash [[Hullbreacher]] if we attempt to simply wheel using [[Lion's Eye Diamond]] to Flashback the [[Echo of Eons]]. The goal here is to optimize how we proceed and ensure victory through potential cards like [[Veil of Summer]] and [[Hullbreacher]]. How are you going to finish this turn and this game?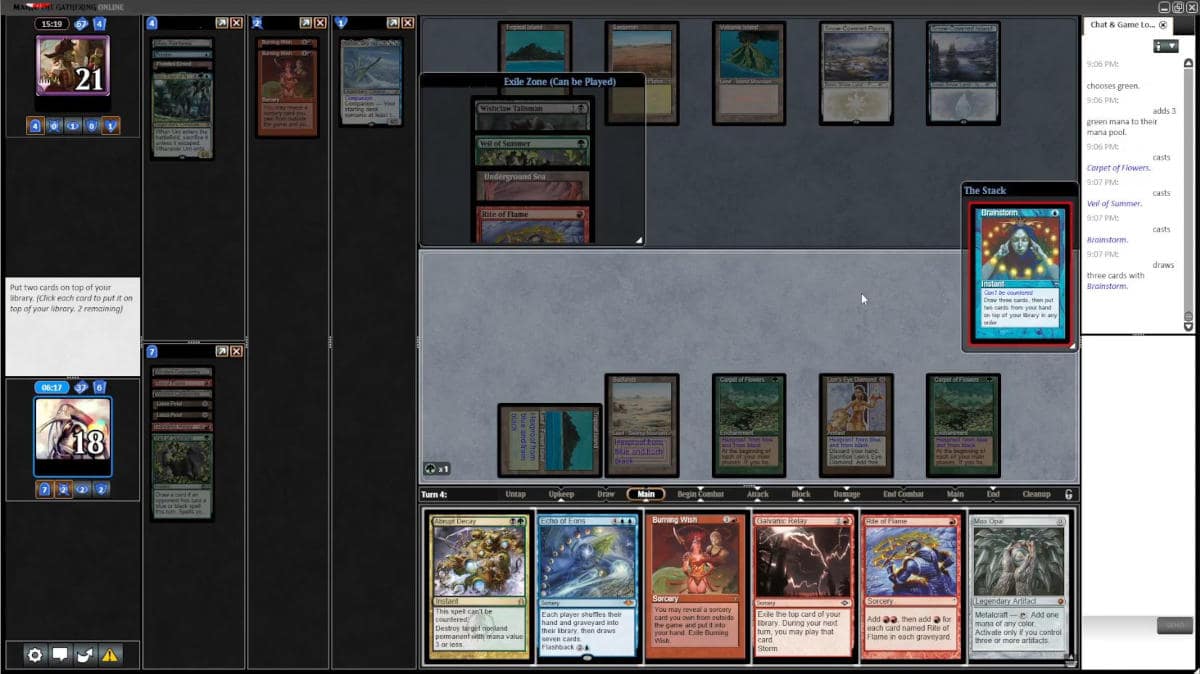 ---
Want to see your play?
We're now allowing for fan-based submissions for "Infernal Tutoring!" In order to submit, scroll down to the footer to the contact form. Attach your screenshot, describe the situation in detail, and press submit!
Disclaimer: Regarding the details of the scenarios, we do not want what the outcome of the situation is. For example, if the question is, "Do I go for it here?" do not tell the team if your opponent had [[Force of Will]] or not. This information honestly doesn't matter for our purposes, and it doesn't change the answer if it's correct or not to cast the business spell. Thank you for your understanding.
Instructions
Use the subject line of "Infernal Tutoring"
Write what list you are playing and if there's anything special about your list compared to the current stock version. Scenarios that contain the current list are more likely to be selected.
If possible, please resize your images to be no larger than 1400px wide and preferably under 125kb. This will make our job easier, if you're unfamiliar how to do this that's okay too. Still message us with your scenarios!