Change is good!
Being stuck in the past is the best way to get left in the dirt when bigger and better things arrive. This applies to Legacy just as much as other aspects of life. To stay competitive in the cutthroat environment of Legacy (thanks [[Delver of Secrets]]), constant evaluation of your strategy and deck list need to be made. Getting a strategy and deck list to align is no small feat. Certainly, established archetypes have a structure that supports their success. When that structure is altered (e.g. removing [[Ponder]] from The EPIC Storm), it may be time to re-evaluate the game plan.
The initial thoughts behind the changes seen in The EPIC Storm v13.3 were brought about by recognizing some tension with our sideboard plan. When playing against Blue decks, the plan is to lean into [[Galvanic Relay]] as a card advantage engine, seeking to overwhelm the opponent. The previous sideboard plan exchanged [[Rite of Flame]] for [[Carpet of Flowers]]. While a marked improvement in power level against opposing copies of [[Island]], this was only a lateral shift in the plan. [[Rite of Flame]] is good when paired with [[Galvanic Relay]] too! This tension of replacing an already-good card for a better card in the matchup did not sit well with us. Paired with the knowledge that [[Chalice of the Void]] decks are seeing increased play with the popularization of Moon Stompy, we saw an opportunity to improve The EPIC Storm even further.
Cutting [[Carpet of Flowers]] means we cannot claim the title of "Delver Killer", a name brought about by the inclusion of our favorite enchantment and its strength against a deck that could not remove it once in play. Now that we have included more potent sideboard cards against the non-Blue meta share, it is time for a new nickname. The EPIC Storm v13.3 or "Stompy Stomper" is tailor-made to maintain the same power against Blue decks but have the interaction needed to face [[Trinisphere]] and [[Chalice of the Void]]. [[Crash]] is a card that has been used in older versions of the deck, and now it resurfaces for more time in the limelight. The power of [[Crash]] exists in the ability not to sacrifice "tempo" when it is time to combo. Having a free spell to interact with hate pieces can make or break a game — whether cast directly from hand or plus-one mana from a [[Wishclaw Talisman]] activation. Additionally, we have included [[Grapeshot]] as our third card to replace the copies of [[Carpet of Flowers]]. It being back in the board might look like an out to a resolved [[Veil of Summer]] across the board. While this is certainly an option, the main reason for its inclusion is flexibility. From small Storm turns to kill a RB Reanimator opponent after they do most of the damage themselves via [[Griselbrand]] activations, to removing a pesky [[Collector Ouphe]] from Elves or Naya Depths, [[Grapeshot]] has the flexibility needed to push through some of the matchups our sideboard was not previously made for.
Responding to metagame changes in Legacy can be time-consuming and getting lost in the weeds is a real danger. Familiarity with a deck's strategy is the first step to streamlining that process. That knowledge can then inform deck lists and card choices. For The EPIC Storm, the response to increased [[Galvanic Relay]] plans against Blue decks was the recognition that our "Delver Killer" sideboard plan was no longer necessary. Paired with the uptick in prison strategies, the sideboard changes mark the strategy we want to have against them. Again, change is good! The copies of [[Carpet of Flowers]] served The EPIC Storm very well, now is the time to try something new. Let's see how these changes work in practice and if we really can stomp Stompy decks.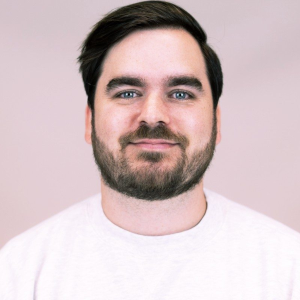 Special Guest
Dougal
Warby
(Twitter: @DougesOnTwitch | Twitch: DougesOnTwitch
Douges is a long-time Legacy enthusiast who started streaming the GWx side of the format back in 2019. He's the founder of the GreenSunsZenith.com, a home for Legacy Maverick and is itching to play in a European Legacy tournament after getting a taste for international events via Legacy GP's in Kyoto (2018) and Los Vegas (2017).
Guest's Note: I want to give a quick shout out to one of my best mates I've met through my local scene Chris Raymond (Brisbane Eternal Weekend 2019 Champion) as key proof reader to make sure I wasn't making any foolish mistakes.
Deck List
the
epic
Storm
Main Deck
4 [[Brainstorm]]
4 [[Veil of Summer]]
4 [[Mishra's Bauble]]
4 [[Wishclaw Talisman]]
4 [[Burning Wish]]
2 [[Galvanic Relay]]
1 [[Tendrils of Agony]]
1 [[Ad Nauseam]]
1 [[Echo of Eons]]
4 [[Rite of Flame]]
4 [[Dark Ritual]]
4 [[Lion's Eye Diamond]]
4 [[Lotus Petal]]
4 [[Mox Opal]]
3 [[Chrome Mox]]
4 [[Bloodstained Mire]]
1 [[Scalding Tarn]]
1 [[Misty Rainforest]]
1 [[Verdant Catacombs]]
1 [[Underground Sea]]
1 [[Volcanic Island]]
1 [[Bayou]]
1 [[Badlands]]
1 [[Taiga]]
Sideboard
3 [[Carpet of Flowers]]
3 [[Abrupt Decay]]
1 [[Chain of Vapor]]
2 [[Galvanic Relay]]
1 [[Thoughtseize]]
1 [[Empty the Warrens]]
1 [[Tendrils of Agony]]
1 [[Pulverize]]
1 [[Echo of Eons]]
1 [[Peer into the Abyss]]
SITUATION No. 1 — Ruby Storm
Our first situation is against a Storm deck that hasn't seen extended amounts of play in a while. Ruby Storm is usually a mono-Red deck that utilizes the cost-reducing power of [[Ruby Medallion]] to power out a large combo turn with [[Bonus Round]], [[Jeska's Will]], and the entire Red ritual suite. While it did see a resurgence with new printings, the deck is outclassed by its predecessor The EPIC Gamble. Thanks to the near-Herculean efforts of Tony Scapone, the ritual-based Storm deck has evolved into an artifact-based Storm deck. Despite this new evolution, Ruby Storm is still a uniquely powerful deck! Capable of making ridiculous amounts of Red mana, there is a classic feel to casting [[Ruby Medallion]]. Thankfully for The EPIC Storm, Ruby Storm is a slightly slower deck compared to The EPIC Gamble. While capable of winning without [[Ruby Medallion]] in play, the smoothness of the deck does falter. So there is often at least a turn available to us as The EPIC Storm.
Interaction is not the name of the game here. While Ruby Storm does have some interaction points with [[Burning Wish]] targets like [[Shattering Spree]] to remove a key artifact on our board, we have inclusions like [[Chain of Vapor]] to bounce their cost-reducer. Make no mistake, this is most often a flat-out race to the finish line. The goal is to be quick and hyper-efficient.
SIDEBOARDING:
-2 [[Galvanic Relay]]; +1 [[Chain of Vapor]], +1 [[Thoughtseize]]
Even though all that is left is a simple [[Chrome Mox]] trigger, this turn began with the famous [[Ad Nauseam]] trick. By putting [[Chrome Mox]] on the stack and responding to it with [[Ad Nauseam]], you can utilize the cards "drawn" to Imprint underneath [[Chrome Mox]]. This may not matter, but in low-resource situations, it could mean the difference between a win and a loss. Ruby Storm does not have any interaction for zero mana, the coast is clear. We are, however, a single mana short of the lethal [[Tendrils of Agony]] in our hand! Thank goodness we aren't two mana off — the [[Chrome Mox]] trick pays off. Can we find a path to victory with this pile of cards in hand? Do we [[Brainstorm]] to find what we need or is there a cleaner line?
Author's Note: This match was played with TES v13.2 as seen by the [[Carpet of Flowers]] in the sideboard. Would anything have changed with our plan if [[Crash]] and [[Grapeshot]] were included in our deck?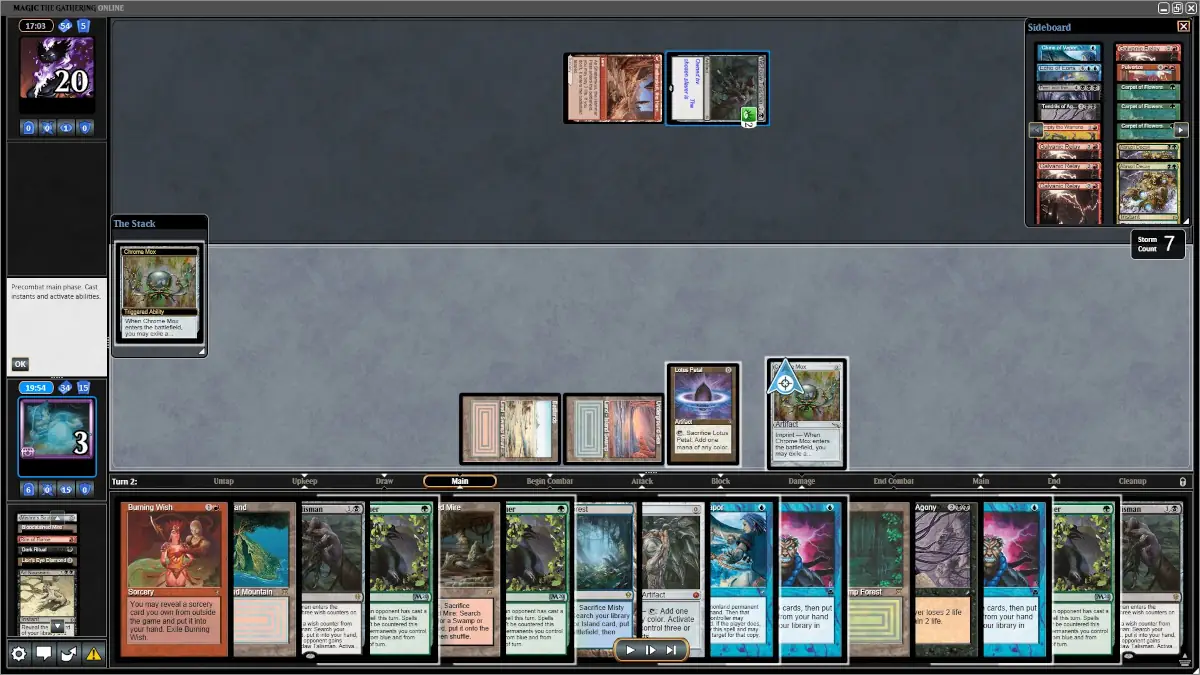 SITUATION No. 2 — Doomsday
Often touted as the best combo deck in Legacy, [[Doomsday]] wears many masks. The core of the deck focuses on resolving the namesake card, [[Doomsday]]. With the printing of [[Thassa's Oracle]], building piles has been condensed to a simpler science than in days of old. Because the requirements to put [[Doomsday]] in your deck are relatively small, there are many strategies surrounding it's core card package. Sometimes, players will build a "tempo" variant with [[Murktide Regent]] and [[Baleful Strix]], with the goal of hedging against UR Delver (classically understood to be the deck's worst matchup). Other times, players understand the need for speed — "turbo" builds exist here — often with the goal of crushing everything that isn't UR Delver. However, starting with recent results in the Showcase Challenge from a Turbo [[Doomsday]] build, a new sideboard card has changed the combo landscape! [[Sheoldred, the Apocalypse]] is a card that can potentially swing the matchup [[Doomsday]] has against UR Delver into a more favorable position. Without getting caught up in the details here, this inclusion is making big waves. Turbo [[Doomsday]] can now be built with the non-UR Delver meta in mind, staying fast and efficient. When encounters with the S-tier menace are had, [[Sheoldred, the Apocalypse]] can fight back. Does this mean that [[Doomsday]] is now not only the best combo deck in Legacy but also in the running for the best deck overall? Only time will tell.
Tough are the matches played against [[Doomsday]] as The EPIC Storm. The deck embodies everything we want to avoid facing. Fast and efficient combo? Check. [[Force of Will]] and [[Force of Negation]] — often playsets of both? Check. Cantrips to see everything quickly and change plans when necessary? Check. The EPIC Storm is being pushed in multiple directions. On one hand, there is pressure to combo quickly before an opponent can cast [[Doomsday]]. On the other hand, playsets of [[Force of Will]], [[Force of Negation]], and [[Daze]] put a giant stop sign on those early attempts, suggesting instead that a longer game is needed. This tension is difficult to navigate. Finding the correct moment to attempt a win will depend on many in-game factors. How the opponent is casting cantrips, if mana is left unspent to hold open interaction, how aggressive discard spells are used. Reading those intangibles will make or break a game. [[Doomsday]] is one of our most difficult matchups, making wins that much sweeter when they do actually come around.
SIDEBOARDING:
NONE
Because [[Doomsday]] is such a difficult matchup to navigate, micro-decisions can matter significantly. For this situation, we are in our turn two of a post-sideboard game. Our opponent is playing a Turbo [[Doomsday]] build. They have played a land and passed on their first turn. There is no direct line to victory at the moment, but our decisions lie in making the most of what we are given. With the ability to cast [[Echo of Eons]], [[Galvanic Relay]], or simply nothing, our plan needs to be based on how we think this game will play out. With the knowledge that threading the needle between speed and resiliency is how The EPIC Storm wins, what is the best way to do that?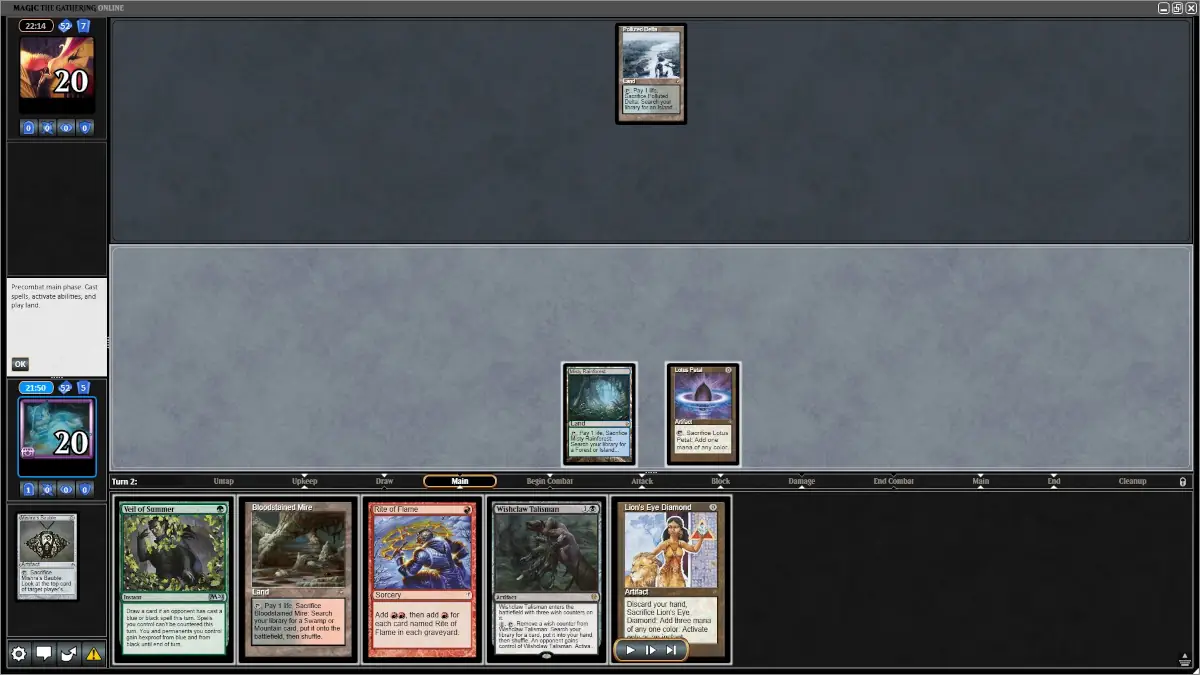 SITUATION No. 3 — UR Delver
[[Delver of Secrets]] and friends have been the best thing to do in Legacy since Innistrad's printing of the aggressive one-drop creature. Instead of just being the archetypical resource-denial "tempo" decks of old, UR Delver is now a powerful mid- and late-game strategy as well. [[Expressive Iteration]] and [[Mystic Sanctuary]] allow this efficient deck to play the long game. The classic starts of [[Delver of Secrets]] + [[Daze]] + [[Wasteland]] still exist, putting the pressure on opponents early and often. Once the initial threats have been addressed, [[Murktide Regent]] closes the door and [[Expressive Iteration]] refuels to keep trying again. There are multiple reasons that UR Delver is at the top of the proverbial food chain. Despite the target on its back, the deck is still putting up results each week. You can't help but appreciate how absolutely rock solid this deck is.
Luckily for us, UR Delver has a glaring weakness. The sideboard of UR Delver has to be tuned to an expected metagame. Because of this, Storm strategies can take a backseat to other decks deemed more important to prepare for. If UR Delver is gunning for Storm, there is nothing we can do but take the beating prepared for us. If the sideboarding strategies keep up as they have been, Storm decks are not the priority. Stack interaction and quick threats are certainly enough to beat The EPIC Storm in some cases. But because we have the ability to overpower much of their countermagic, there are real chances to come to the table with a plan to beat UR Delver.
With the new sideboard of v13.3, the mapping against UR Delver has become quite lean. Not having [[Carpet of Flowers]] to swap with [[Rite of Flame]] means the goal is to just be an efficient [[Galvanic Relay]] deck. Most UR Delver decks are not playing [[Flusterstorm]] at the moment. Cards that do need to be on the minds of The EPIC Storm pilots are [[Counterbalance]], [[Maddening Hex]], [[Surgical Extraction]], and even rare cases like [[Ashiok, Dream Render]] and [[Blood Moon]]. Of course, traditional counter magic like [[Force of Will]], [[Force of Negation]], [[Daze]], and the "blast" effects of [[Pyroblast]]/[[Hydroblast]] also exist. Matches against UR Delver are certainly not free. They can be successful though, with careful planning and tight play
SIDEBOARDING:
-1 [[Chrome Mox]], -1 [[Mox Opal]], -1 [[Ad Nauseam]]; +2 [[Abrupt Decay]], +1 [[Galvanic Relay]]
Many game actions have been taken in the game before our final situation presented itself. This is a sideboard game and it is our turn five. We spent the last two turns chaining copies of [[Galvanic Relay]] together. Our opponent has been resource light, only finding land number two on the previous turn. But it afforded them the ability to land the [[Counterbalance]] we face across the board. The previous turn resulted in a [[Thoughtseize]] revealing [[Pyroblast]], [[Daze]], and [[Force of Will]]. [[Expressive Iteration]] was discarded so that our following turn could work off of known information. There are a lot of moving pieces with this one. With one piece of counter magic available in hand and an active [[Counterbalance]] on the board, how do we play out this turn?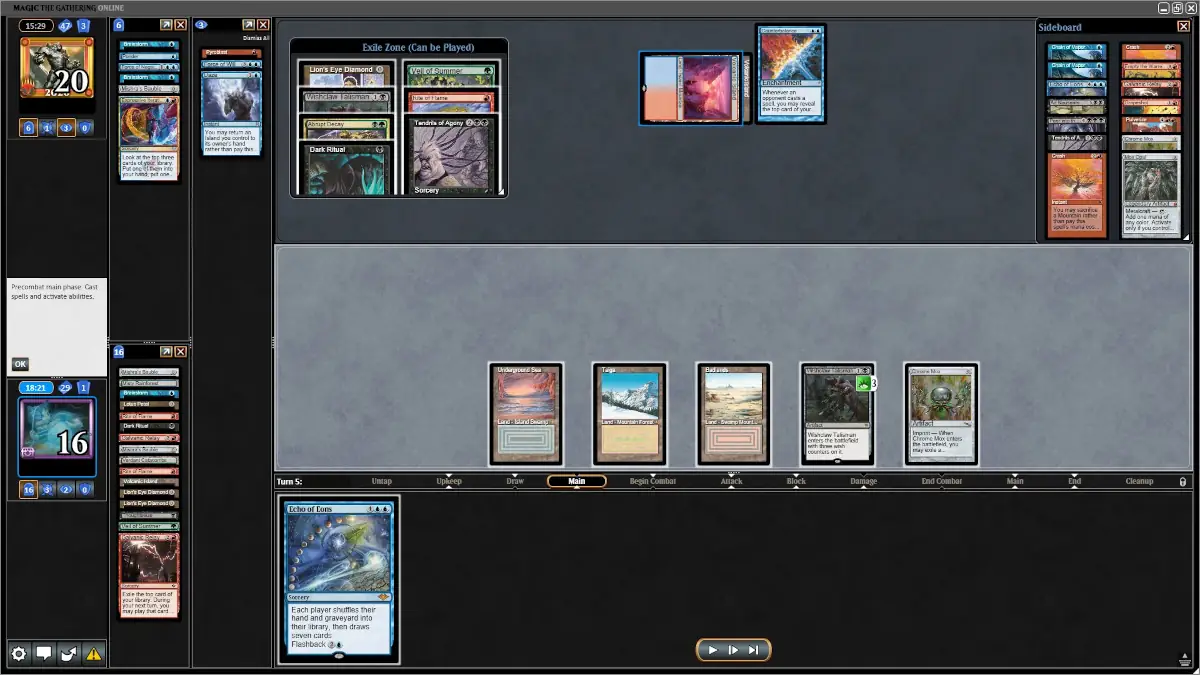 ---
Want to see your play?
We're now allowing for fan-based submissions for "Infernal Tutoring!" In order to submit, scroll down to the footer to the contact form. Attach your screenshot, describe the situation in detail, and press submit!
Disclaimer: Regarding the details of the scenarios, we do not want what the outcome of the situation is. For example, if the question is, "Do I go for it here?" do not tell the team if your opponent had [[Force of Will]] or not. This information honestly doesn't matter for our purposes and it doesn't change the answer if it's correct or not to cast the business spell. Thank you for your understanding.
Instructions
Use the subject line of "Infernal Tutoring"
Write what list you are playing and if there's anything special about your list compared to the current stock version. Scenarios that contain the current list are more likely to be selected.
If possible, please resize your images to be no larger than 1400px wide and preferably under 125kb. This will make our job easier, if you're unfamiliar how to do this that's okay too. Still message us with your scenarios!